Forget everything you think you know about luxury, indulgence, and more sparkle than even a magpie could handle. Now also forget every other item you think you need in your life, from your wardrobe to your feet to everything else in-between. Whether you want to or not, you won't be able to think about anything else once you see the crystal-encrusted Saint Laurent Paris boots we are lusting after this month. And probably will be for the rest of our lives if we don't slip our feet into them ASAP.
We saw them glistening away on the Paris Fashion Week catwalk and have been able to think about absolutely nothing else since. New season handbags? Forget about them. That beautiful necklace you've been eyeing in the jewellery shop window for months? Doesn't even come close!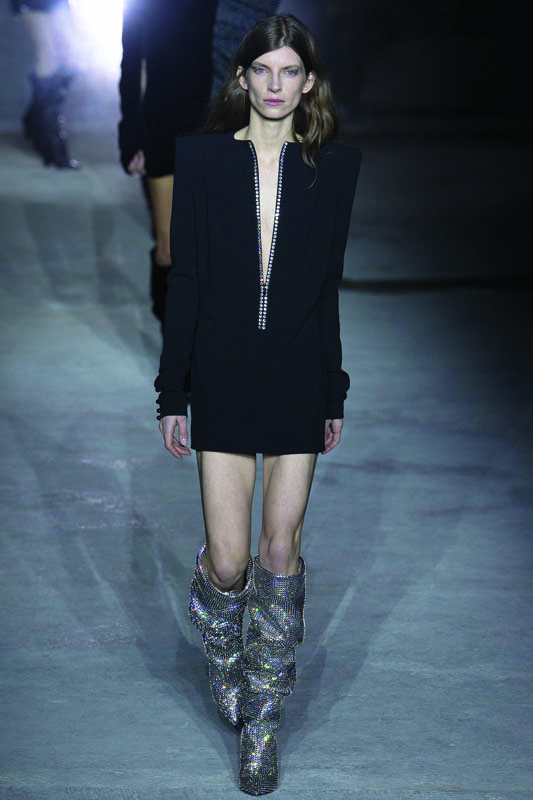 The Saint Laurent slouchy glitter boots stole the autumn/winter 2017 show in the most spellbinding way imaginable, proving that new creative director Anthony Vaccarello is a true visionary who has already made a name for himself at the fashion house. With a grand total of 6,000 rhinestones per pair, we aren't in the least bit surprised that they captivated (and probably blinded!) the entire audience as models including Melissa Stasiuk and Birgit Kos strutted so purposefully and so confidently down the catwalk. We don't know about you, but we too would feel like we could conquer the world if we had those boots on.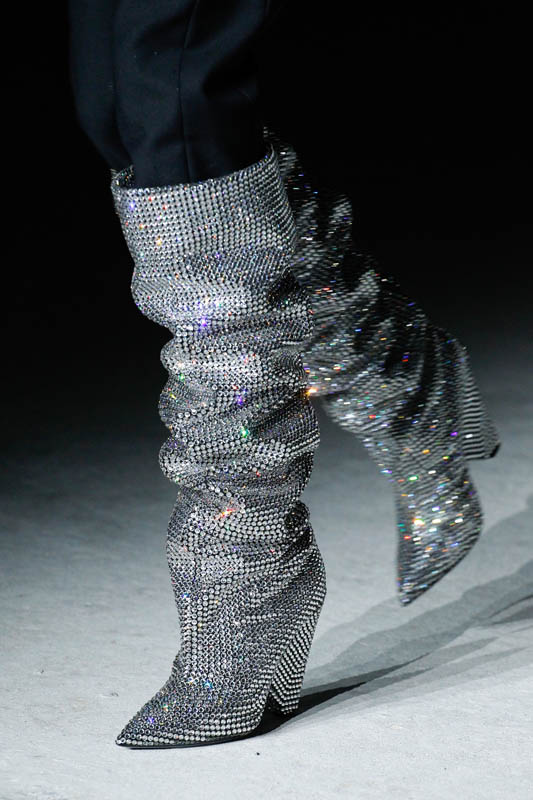 Slouchy boots have already cemented themselves as one of the hottest footwear trends of the new season, with many designers from all four major cities offering up some great contenders in the race for boot of the year. This sadly isn't a competition (yet!), but it's safe to say who we would crown as the winner. So, how much will these boots of your, our, everyone's dreams set you back? Where can you snap them up, and when do they officially go on sale? A word of warning, you probably won't like what's about to follow…
So here's the thing about an item so lust-worthy and so highly sought after; absolutely everyone wants a piece of the action. Yes, even when they come with quite a sizeable price tag – almost £8,000 if we are to believe what we read. Great for Saint Laurent and all the people who currently own them – yes Rihanna we're looking at you. The Bajan singing superstar was lucky enough to slip into a pair hours after they made their debut, making our inner green eyed monsters dangerously on the verge of a true explosion. Put your jealousy to one side for a moment and check out how incredible she looked in the picture she posted on her Instagram page. How much do you want to trade lives with Rihanna right now?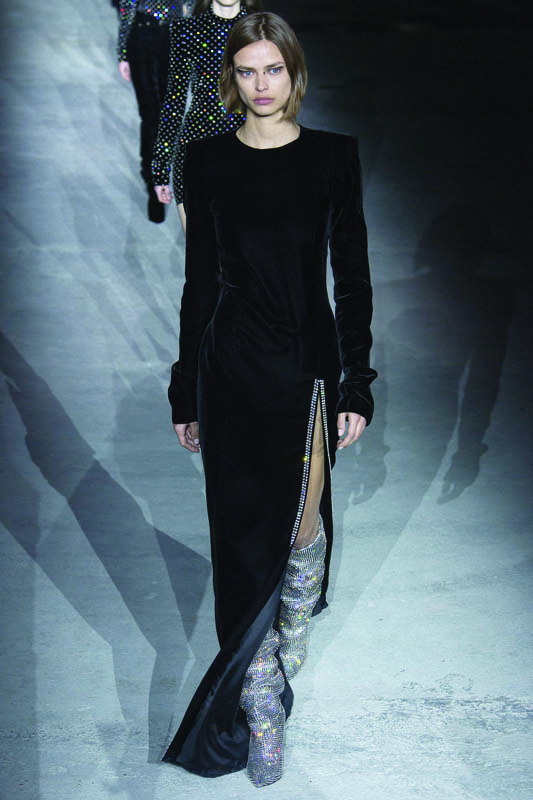 So back to what we were saying; good news for the designer and world famous singers. Bad news for everyone else. These boots barely had time to make it off the catwalk before fashionistas across the globe were putting their orders in, causing quite a frenzy in some of the biggest department stores around the world. "At Saint Laurent, the crystal diamanté slouchy boot had such an emotional response to it, there's something to be said about glitz and glamour – it's the boot of the season," Saks Fifth Avenue senior vice president, Roopal Patel, told WWD.
The waiting list for these badboys is gargantuan to say the least, and there has been no official word on just how many of these rhinestone beauties will actually be made. Que the hysteria! So we would advise you to stop what you are doing (ok, you can make it to the end of this page) and find your nearest department store to add your name to the list, pronto. Shop around, try different websites and department stores – we will even go as far as suggesting countries and continents.
No journey is too far when Saint Laurent Paris diamanté slouchy boots are the destination!