Sixties hair and make-up is totally in right now, but that's not to say we are done with the seventies, either. Case in point: Amal Clooney's gorgeously groovy seventies inspired look.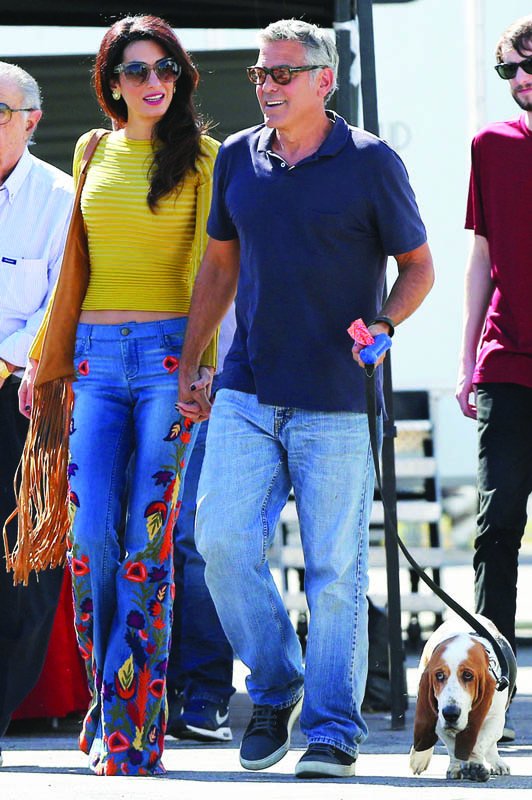 The human rights lawyer – who might as well double up as a style icon if her appearances on and off the red carpet are anything to go by – visited her husband Mr George Clooney on the set of his latest film in Los Angeles recently, and chose to do so in this courageous, colourful throwback ensemble.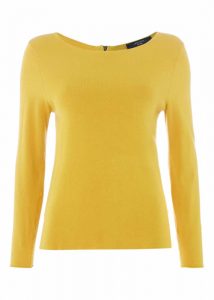 We've been style stalking Amal for quite a while now (you heard what we said about her being a style icon in the making, right?), and this is easily one of our favourite looks of the year. A bold statement, but one that we would be happy to back up; this picture is pretty much all the evidence we would need though.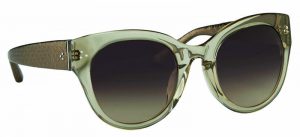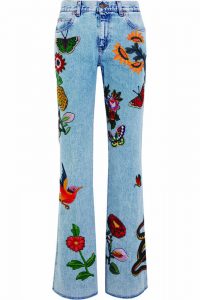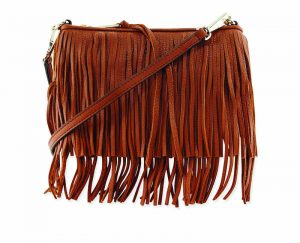 Would you be brave enough to try this look? If the answer is a big fat yes, keep reading…
It's actually really easy to recreate Amal's seventies look, even if you don't manage to grab the exact same pieces she has. (FYI: her Alice & Olivia jeans have been so popular this season it comes as no surprise to learn that they have already sold out. As have some of the other pieces Amal is wearing. But don't fret, because there are tons of similar pieces available right now – hooray!)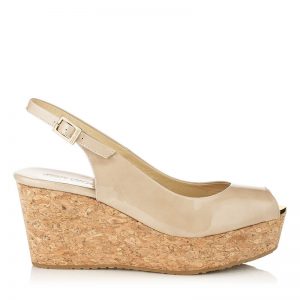 Amal's Pepa Pombo mustard yellow ribbed cropped top has also sold out everywhere (we hate being the bearers of bad news, sorry!), which is great news if you don't want to show your midriff. It's also another plus as it means you can skip the gym, indulge in dessert, and leave the ab crunches for another day. Or two…
Here's what you'll need to channel Amal Clooney:
Gucci appliquéd mid-rise flared jeans, £1,400, available at Net-a-Porter https://www.net-a-porter.com/gb/en/product/714600
As we said above, the exact pair Amal is wearing have actually sold out everywhere, and we really do mean everywhere. However, these Gucci ones are hardly a consolation prize as they are equally as gorgeous and attention-grabbing. You didn't expect Gucci to disappoint, did you?
Max Mara Tacito zip back long sleeve jumper, £140, available at House of Fraser
Affordable, modest, what's not to love about this jumper? Additionally, it can be worn with a number of other different outfits too, so you don't have to feel like you've entered a time machine every time you put it on. Win, win! www.houseoffraser.co.uk/Max+Mara+Tacito+zip+back+long+sleeve+jumper/239888071,default,pd.html
Jimmy Choo 'Praise' nude patent leather sling back peep toe wedges [exact match!], £325, available at Jimmy Choo
Whether you want to copy Amal Clooney or not, we definitely think you need to treat your feet to these Jimmy Choo wedges. Elegant, versatile – we're already picturing the hundreds of different outfits we can wear these with. Summer dresses? Check! Every other pair of flared or wide leg trousers? Check! Jumpsuits and playsuits? Check. Need we go on?
http://www.jimmychoo.com/en/women/shoes/sandals/praise/nude-patent-leather-sling-back-peep-toe-wedges-PRAISEPAT120008.html
Rebecca Minkoff 'Finn' fringe leather bag, £166.51, available at Neiman Marcus
This bag goes hand in hand with every other part of Amal's outfit, but it doesn't mean you should throw it away as soon as you're done copying this look. Fringe has been a big hit for a lot of designers recently, and we would bet good money that it will make an even bigger return in the not so distant future.
http://www.neimanmarcus.com/en-gb/Rebecca-Minkoff-Finn-Leather-Fringe-Crossbody-Bag-Almond/prod187280149_cat21450743__/p.prod?ItemId=prod187280149
Linda Farrow oversized Truffle sunglasses [exact match!], £511.29, available at Linda Farrow
A woman can never truly have enough pairs of sunglasses. Whether that's because you keep losing them or breaking them (hands up if you're left them on a sun lounger and then sat down on them, or if they've flown off your head while on a jetski…) or because there are simply too many styles, sizes and colours to choose from, there's no such thing as "too many" when it comes to sunglasses. We adore this pair, and know you will feel like a Hollywood screen siren when wearing them.
http://eu.lindafarrow.com/linda-farrow-393-c18