You would be forgiven for not having heard of Ruth Negga before today – but we predict that by this time next year the Ethiopian-Irish actress will have become a household name. Or at the very least, be considered in the same fashion icon league as greats such as Blake Lively, Gigi Hadid, Diane Kruger, and many more.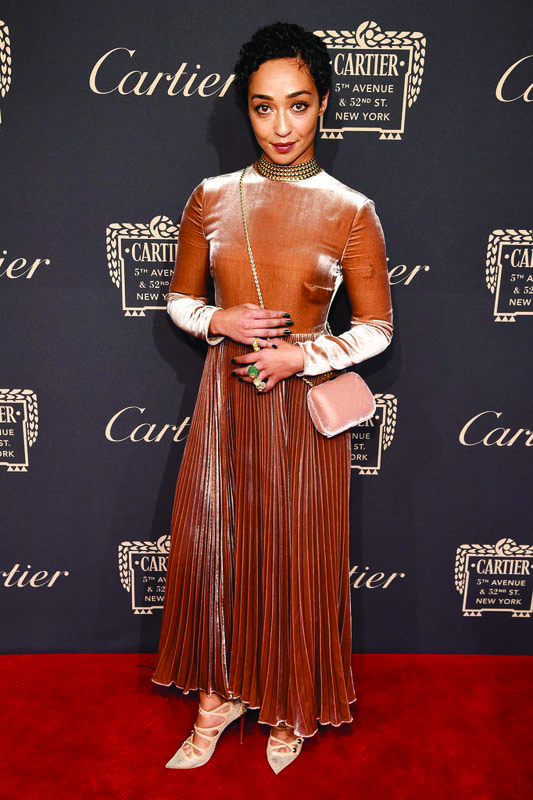 We mention these fabulous ladies only for their status and not for style comparison reasons, simply because, we don't think Ruth Negga's red carpet style compares to that of anyone else's. And that's exactly why she is our undisputed style crush of the moment!
We aren't the only ones to have fallen head over heels for this lady either, as Vogue US, aka the ultimate fashion Bible, decided to kick off the year with her stunning face on the cover. A real honour, we think you'll agree. If that doesn't show that you've made it in the fashion world, what will, eh?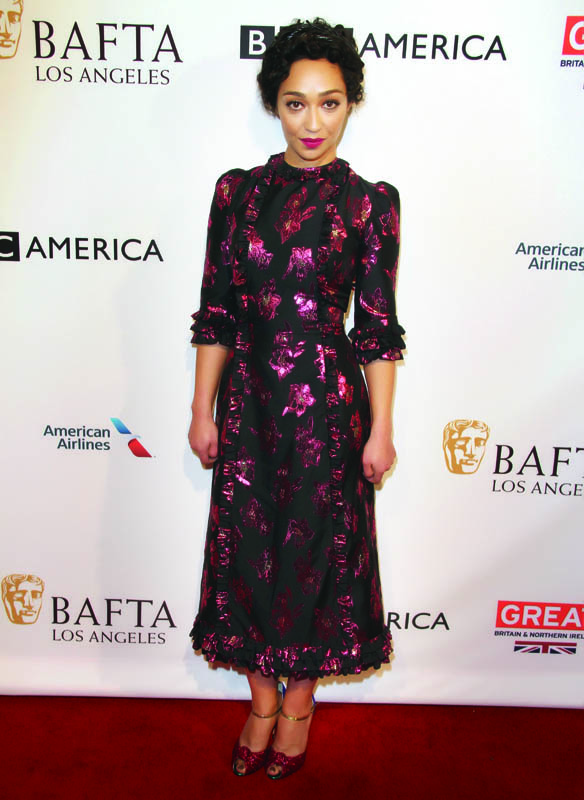 It's taken a while for us to narrow down our favourite Ruth Negga red carpet looks from the past few years (look her up – you'll see what we mean!) but we think we've finally got our list. There aren't enough magazine pages available for us to highlight every single one of her amazing red carpet looks. Quick – check them out now before we change our minds again.
Here are just some of the reasons she is the one to watch this year:
Old Hollywood screen sirens were onto a winning style formula back in the day, and it looks like Ruth Negga knows that if her appearance at the Palm Springs lunch which took place at the beginning of this year is anything to go by. We love her sleek, slick twenties-inspired hairstyle as it really complements the rest of her outfit in ways we never really imagined.
The Erdem florals and high waisted skirt is a flawless combination, and the baby pink belt is just darling. If you would never think of putting an outfit like this together, perhaps you should reconsider, because Ruth Negga is making it work wonders.
We told you in the last issue that it was all about the metallics – and it still is, by the looks of things – although we don't think Ruth Negga waited for our approval before stepping out on the Golden Globes red carpet at the start of the year. If her intention was to wow the crowd and match up to the big red carpet players then she certainly achieved what she was going for – it's hard to fade into the background when you're wearing Louis Vuitton at the best of times, but this is something else altogether!
(This particular LV gown reportedly took over 120 hours to make… and we think it was worth every single microsecond!) We love everything about this look, and we haven't even got to her flawless make-up yet. If all you need is one word, then it has to be: wow.
You know you've made it when you're parading down a red carpet in Valentino! Ruth really impressed us at the Palm Spring International Film Festival, as this look could have been quite difficult for unseasoned red carpet walkers to pull off. Not Ruth Negga though, who floated down the red carpet as effortlessly as you could ever imagine – as if on a cloud. (We would be on a permanent cloud all night if we wore Valentino, too. Just sayin'…)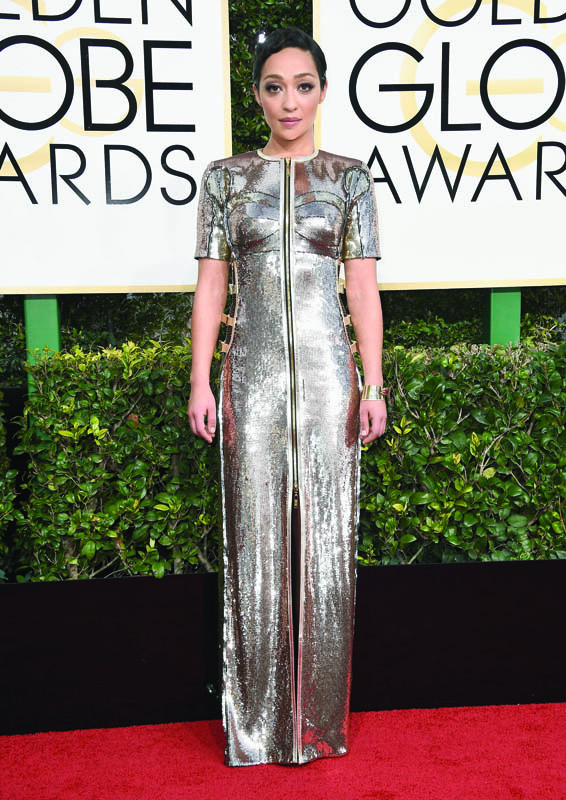 We love how romance meets sexiness with this expertly crafted Valentino dress; the romantic embroidered floral detailing is absolutely heavenly, while the sheer material not covered by embroidery added some cheeky seductiveness to the proceedings. And well played on the bold red lip, too!
Lace isn't just for those soft and romantic looks, you know – as proven by Ruth Negga at the Warcraft: The Beginning Hollywood premiere. She opted for a stunning black lace dress by Rodarte (you know your lace is in good hands with Rodarte) and made us fall in love with the vamp trend all over again. She could have really played on the aforementioned vamp trend by going for some dark and heavy make-up, but we love how she softened the look with a subtle smoky eye and a dreamy light pink lip. Someone made all the right decisions here – tick, tick, tick!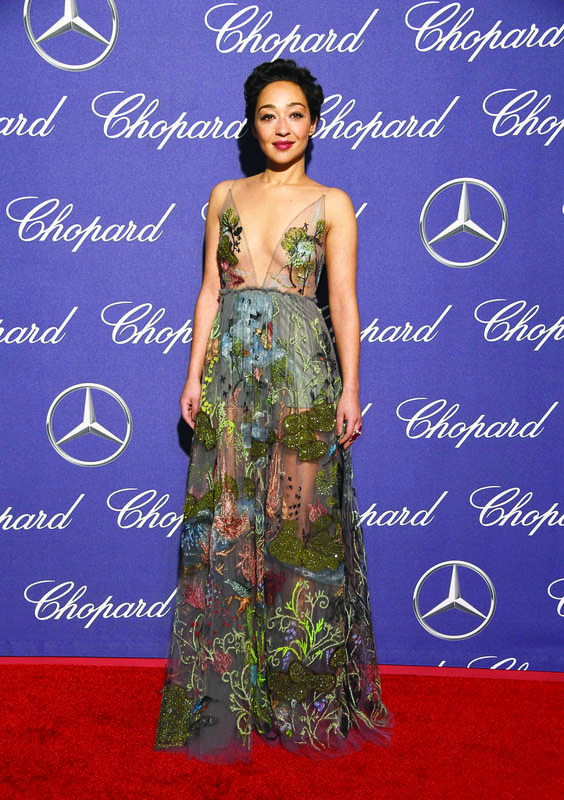 How fresh and effortless does this Ruth Negga look appear? This might just seem like a simple black dress and heels look to some people, but it's the simplicity that really speaks volumes here. Just take a moment to bask…
Flick through this issue of First Avenue and you'll know how powerful velvet can be. It was one of the biggest trends at the end of last year, and fashion experts around the world are predicting that it's here to stay for yet another season. If you still aren't convinced to try the trend out, then let Ruth Negga be your red carpet inspiration. Just look at her – we don't know about you, but we can't take our eyes off her! The nude Valentino dress definitely helps, but we think it's more to do with Ruth and her red carpet presence. Hair and make-up, as always, were flawless. Enough said!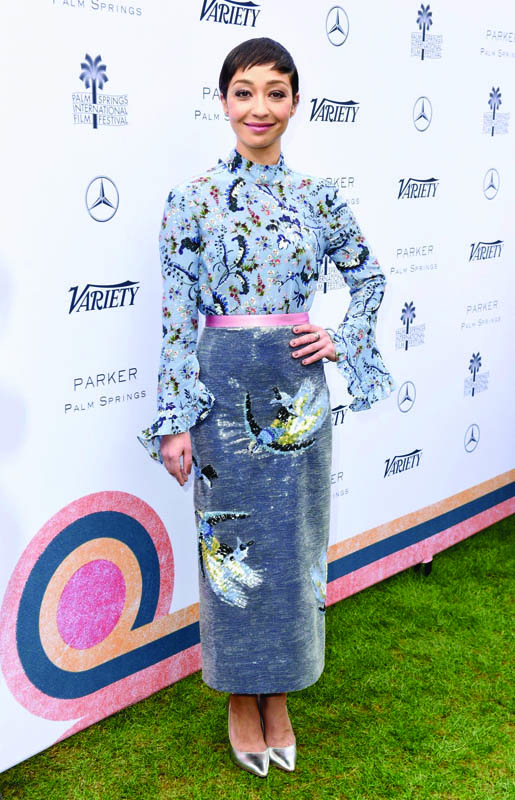 Forget the embroidery as seen on the Valentino gown which we saw earlier, Ruth Negga has given us yet another faultless way to wear florals. And once again, the look doesn't appear to be out of place on the red carpet. (Florals can be quite tricky to nail on the red carpet, especially during any other time of the year that isn't spring or summer – but Ruth clearly didn't let that bother her. And it shows.) Ruth stunned at the BAFTA Tea Party which took place in January this year – certainly not your conventional time for flower power) in a Vampire's Wife tea dress. We're quite tempted to snap one up for ourselves for any tea parties we might get invited to in the future. Always good to be prepared!