There are so many things we love about Chrissy Teigen.
In case you're keeping note, her ability to always keep it real – whether it's by proudly showing off pictures of her cellulite on her social media account, taking a mid-red-carpet break at the Golden Globes and sitting down to rest her tired feet, or candidly opening up about her battle with postpartum depression after giving birth to her and John Legend's adorable little girl, Luna – definitely comes out on top.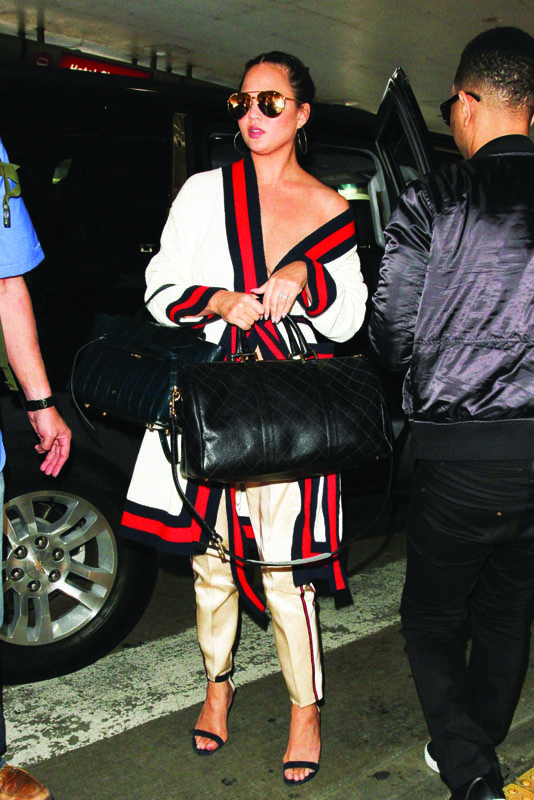 But her impeccable, effortless and extremely enviable style, both on and off the red carpet, comes a close second, and it really isn't hard to see why. Take one of her latest off duty looks for example…
The model turned TV presenter really proved that she's a player in the top fashion league with her covetable airport style as she strolled through LAX. While most air travellers would be forgiven for bundling their hair in a top knot and putting on their comfiest pieces of loungewear, that isn't exactly how Chrissy Teigen rolls. Instead of going down the athleisure route, Chrissy has decided to take the term "airport runway" extremely literally, as her latest outfit combo makes her look like she is ready to hit the catwalk as opposed to board a plane.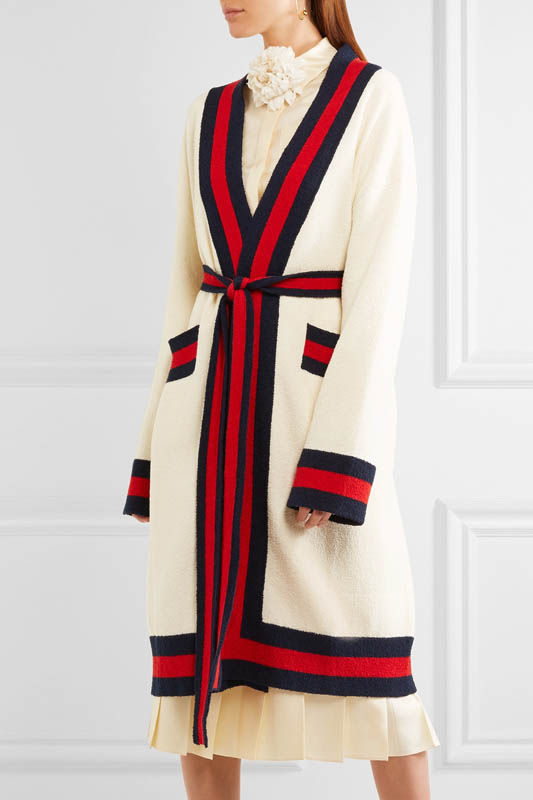 Here is why we are obsessed with her top to toe look, and more importantly, how you can get in on the action yourselves. We must warn you though, this isn't the budget-friendliest of ensembles, but the sheer impact and wow factor makes it totally worth it.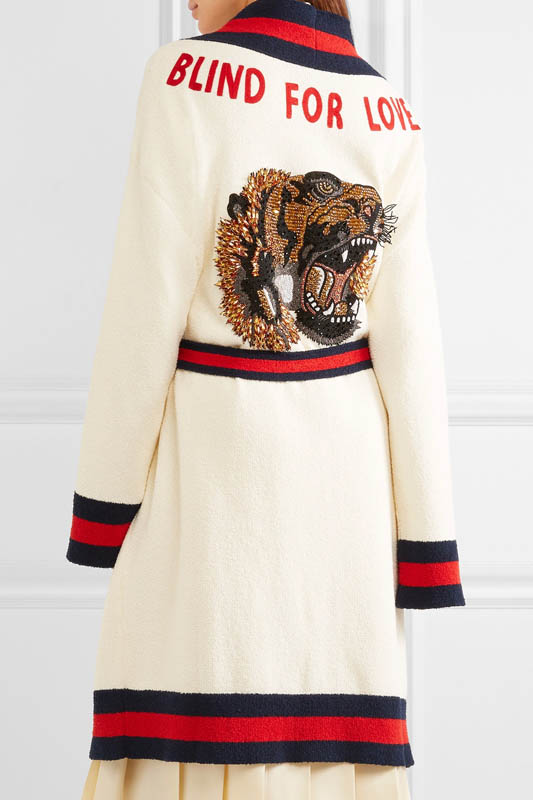 Let's start with the cardigan – i.e. the stand-out piece that pretty much makes the outfit. Hot off the Gucci Resort 2017 runway, this cardigan is the Mohawk of cardigans: business in the front, party in the back! The party we are referring to comes in the form of a stunning Bengal tiger, embellished with the finest and most bedazzling crystals imaginable. The "Blind For Love" quote at the back also adds something special. Gucci embellished cardigan, £3,230 https://www.net-a-porter.com/us/en/product/803157/Gucci/embellished-striped-cotton-blend-terry-cardigan?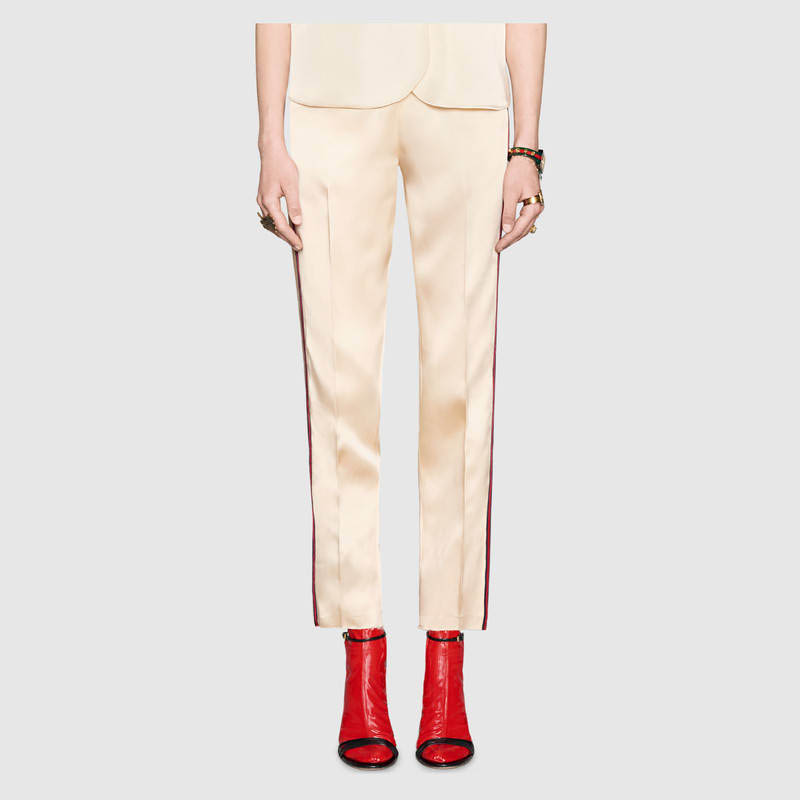 You'd be a fool to purchase the Gucci cardigan and not snap up the matching trousers to accompany your outfit. At least that's the mind-set we think Chrissy Teigen had. She complemented her Gucci cardigan with the matching trousers, something we would really encourage if you want to steal her style. Go big or go home, are we right? We love the rose beige hue of these trousers as they're exactly what the spring/summer season is all about. The ankle length also makes them perfect for the warmer months, as they allow you to get creative with your footwear choice. And not only that, but they allow your footwear to be seen from afar, so you better make sure you choose something good. Which leads us onto our next drool-inducing item… Gucci Duchesse ankle pants, £610 https://www.gucci.com/uk/en_gb/pr/women/womens-ready-to-wear/womens-pants-shorts/womens-pants/duchesse-ankle-pant-with-web-p-469742ZHA459965?position=1&listName=SearchResultGridComponent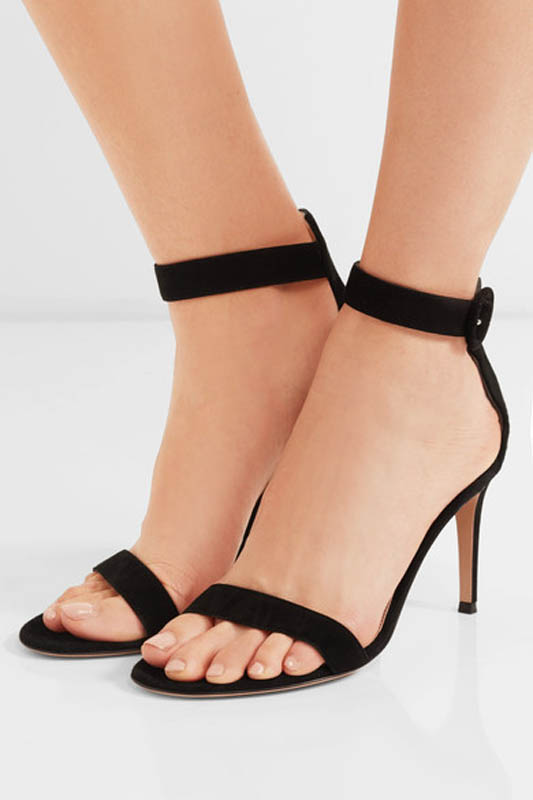 The shoes! Now we know why Chrissy Teigen was so keen to show off her shoes – we would do exactly the same thing too if we had these Gianvito Rossi suede sandals. It might not look like it to high heeled novices, but these particular sandals have a much lower heel (85mm to be exact) than some of their Gianvito Rossi siblings, which makes them a lot more comfortable, and easier to walk in. A fabulous choice for roaming around airports. A great pair of shoes to have, not just for when you're doing your best Chrissy Teigen impersonation, but for any event where a lot of standing, walking, and most crucially – partying – is on the menu. We've already bought two! (There are four different styles, patterns and colours available, so a third pair might very well be on the way!) Gianvito Rossi Portofino suede sandals, £550 https://www.net-a-porter.com/gb/en/product/791048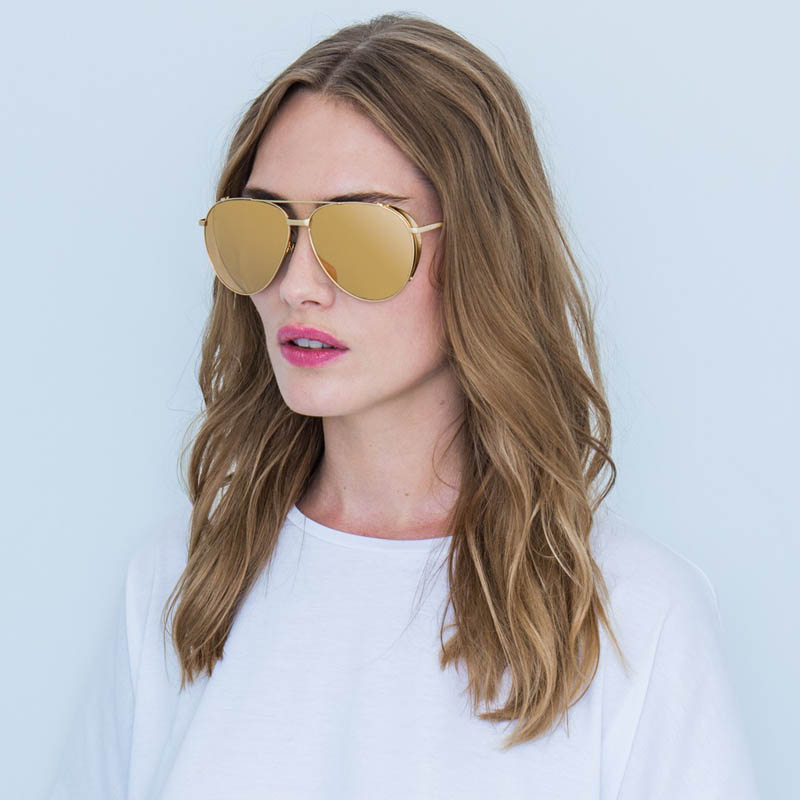 Regardless of the weather or time of day (or night), no celeb look is complete without a token pair of shades to protect the eyes from those pesky paparazzi camera flashes. Luckily you don't have to be an A-lister or running away from the paps to wear your sunglasses inside and outside the airport, especially when attempting to steal Chrissie Teigen's style. The look wouldn't work without the Linda Farrow sunnies, which is why we all need to rejoice and jump for joy that the exact ones Ms Teigen is wearing are in stock on her website. Linda Farrow 425 C1 aviator sunglasses in yellow gold, £720 http://us.lindafarrow.com/linda-farrow-425-c1
The final piece in our Chrissy Teigen style steal puzzle comes courtesy of not one but two black bags. The handbag that Chrissy is rocking so flawlessly is a Celine python mini belt bag – a true icon in bag form – although the exact version is no longer available to purchase online. Sob! Luckily, there's no shortage of wow-worthy black handbags in the world, so we'll let you improvise with one of your existing pieces of arm candy, or allow you to splurge on a brand new luxury black handbag of your choice.