Selena Gomez has been our girl crush for quite some time now. We were totally un-phased when her relationship with Justin Bieber went public, and instead, found ourselves totally falling head over heels for her Cali-cool girl about town style. We wanted to be her best friend – less for the juicy Biebs gossip, and more for the ability to raid her closet in the manner only true besties can. We can dream, can't we?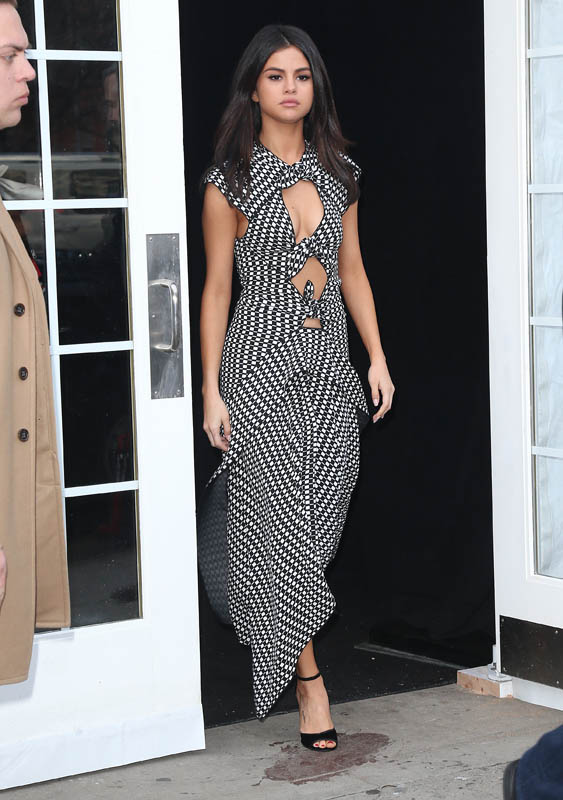 There's probably hundreds of reasons why Selena Gomez held the title of "the most followed person on Instagram" for so long – you won't find a single person in the First Avenue office who doesn't have her popping up on their feed – and her consistently on point sartorial style is definitely top of our list.
Since taking a social media hiatus for personal reasons, Selena has undergone quite the transformation, and has come back fiercer and more glamorous than ever. And that's a pretty bold statement considering she pretty much had it nailed from before. Let's take a look at some of our ultimate favourite Selena Gomez looks – from her newly game-changing, sophisticated wardrobe choices to some iconic classics that are nearly impossible to forget.
Whether you've been a life-long fan or are only just acquainting yourselves with the bona fide style maven, there's no denying that she is a sartorial force to be reckoned with, both on and off the red carpet.
Our first look comes courtesy of one of her latest – and possibly even greatest – red carpet appearances. Selena Gomez ensured that all eyes would be on her at the premiere of 13 Reasons Why. You don't really wear Oscar de la Renta and expect to blend into the background, do you? She expertly matched her orange hued dress with some Rebecca de Ravenel drop earrings (look at that colour transitioning!) and some orange eyeshadow. A brave choice – but one which definitely paid off, and has helped her to cement her style goddess status.
This next look was a real showstopper for so many different reasons. We bet Selena Gomez was under a lot of pressure to pick the right outfit for her return back into the spotlight, after taking quite a bit of time off to focus on her health. And we don't think she could have chosen a better dress than the red hot Prada creation that hugged her figure so flawlessly and looked like it was expertly crafted just for her. We love how she swept her hair back into a sleek and sophisticated ponytail and opted for minimal accessories to really let the dress have its well-deserved red carpet moment. She rocked a smouldering smoky eye, which was offset perfectly with a subtle nude lip. We adore every single meticulously thought out detail, and can't praise this look enough!
The red carpet isn't the only place Selena Gomez slays – she has seriously upped the ante in terms of her street style too. What do you wear while taking a stroll through the Big Apple? Well, if you're Selena Gomez, no New York outing would be complete without a cut-out Proenza Schouler dress and some elegant, leg-elongating black heeled sandals. We don't know if former Disney Channel starlet Selena Gomez would have opted for a look so skin-exposing on a casual day to day basis about a year ago, which just goes to show how much her style has transformed in such a sport space of time. We have to say that we are loving her confidence, and the fashion risks that she is so blatantly taking are really paying off.
Is it possible to be feminine while also giving off an American-casual-cool vibe at the same time? Of course it is – just look to you know who for inspiration. Selena Gomez greeted her fans in NYC in a gorgeously feminine rose printed dress (but the predominantly black and red colour combo made it mature and sophisticated as opposed to overly girly) and gave the look some edge by way of a red Coach varsity jacket. Get used to seeing a lot more Coach in SG's wardrobe, as she recently signed a very lucrative contract with the American brand to not only be the face of its future collections, but to also create her very own line too. Pretty impressive going, we must say!
We love it when our favourite celebs play with colour, and this effortless look is the perfect example of how a simple jeans-and-tee combo can make you red-carpet-ready just by adding a pop of colour. The mustard shade really complements Selena's skin tone, and the long, poker-straight locks are exactly what is needed to make her resemble a true Hollywood goddess. Who needs to squeeze into a figure-hugging to make a big impact?
By the looks of this outfit combination, it doesn't look like Selena Gomez is going to let something as tiring as boarding a plane interfere with her style A-game. Selena was spotted at LAX in quite the fashion-forward (but airplane-unfriendly) ensemble. Loose fitting sweatpants and flats are a thing of the past, and in their place, distressed two-tone jeans and a very high pair of stilettos! If you can get past Selena's seriously toned abs (it took us quite a while to stop staring, we must admit), you'll also appreciate the black peacoat and the vintage-inspired shades. We don't think you would catch us (or A-listers like Gigi Hadid, Jessica Alba and Kendall Jenner, among others, who are completely obsessed with the athleisure trend and will find any excuse to slip into their favourite pair of sneakers) boarding a plane in heels as high as Selena's, but they certainly are the ideal finishing touch to her expertly put together outfit. Airport cool just got a whole new meaning!
Another red carpet favourite. We think this might have been when the fashion world woke up and finally paid attention to Selena Gomez, as this look proved that she had finally said goodbye to her former child actress self – and all the girlie, prom-dress fashion that came along with it. Chic, sleek and totally heavenly, this metallic look at the 2016 Vanity Fair Oscars Party has managed to imprint itself in our brains for well over a year. The metallic trend was hotter than ever last season, and this Selena Gomez look was well ahead of its game. If you need convincing that Selena Gomez deserves her place on these pages, then this look would be a good place to start.