Forget the Trump inauguration or any other headline grabbing event that took place this year. We all know that the biggest news to come out of 2017 came courtesy of Beyoncé Knowles-Carter and that infamous pregnancy announcement.
We all remember where we were when the news broke. Her pregnancy photoshoot was a moment that will no doubt go down in pop culture history. After all, it received over 10 million likes on social media, making it the most liked post in Instagram history. Now there's a statistic! No one knows how to announce a pregnancy quite like Beyoncé. We didn't think anything would top her first announcement, where she proudly revealed her bump after performing at the 2011 MTV VMAs, but the series of jaw-dropping photographs lensed by Ethiopian-American photographer Awol Erizku (remember that name!) definitely gets our vote.
But let's not forget that Queen Bey isn't the only A-lister who is expecting a little bundle of joy this year. Just because George and Amal Clooney didn't announce their big news in the same dramatic way as Mrs Carter, doesn't mean we are any less excited about their new arrival. Or, more importantly, Amal's blooming, beautiful and simply irresistible maternity style. These ladies are proof that the pregnancy glow isn't a myth and is in fact a real thing.
Let's take a look at some of their most gorgeous looks to date, not only to marvel at their effortlessly chic maternity style, but to prove that all expectant mothers can look and feel fabulous during every trimester. Talk about the epitome of pregnancy goals…
Give them something to look at!
We love how Beyoncé didn't let the bump get in the way of her sartorial choices – or her day job – when she performed at the Grammy Awards. Instead of hiding her bump or falling victim to what many expectant mothers do and let the bump dress her, Beyoncé threw caution to the wind and dressed her bump in the finest high fashion and glittering stage ensembles. She made every look hers and completely owned the red carpet, the stage, and all the after parties. Who else but Beyoncé?
Beyoncé and Mini Me
Beyoncé took her mini-me to the Beauty and the Beast premiere while wearing a vivid green Gucci dress previously seen on Oscar-winner Lupita Nyong'o in Cannes back in 2015. And of course, in true mini-me fashion, little Blue Ivy copied her momma's outfit in a matching green ensemble. Are these two the cutest mother-daughter duo in the world, or what?
Why we love this look: This look is a big hit for us for many reasons. The colour choice alone speaks volumes, as it screams "I'm here and I'm fabulous", which some maternity fashion fails to achieve. Don't be a wallflower – embrace the pregnancy and all that comes with it! We also love the fabric of this dress, as it flatters the bump without restricting it. Perfect for sitting down in a movie theatre! If you too have a VIP event and are struggling with outfit choices, then look to Beyoncé's premiere look for sartorial inspiration.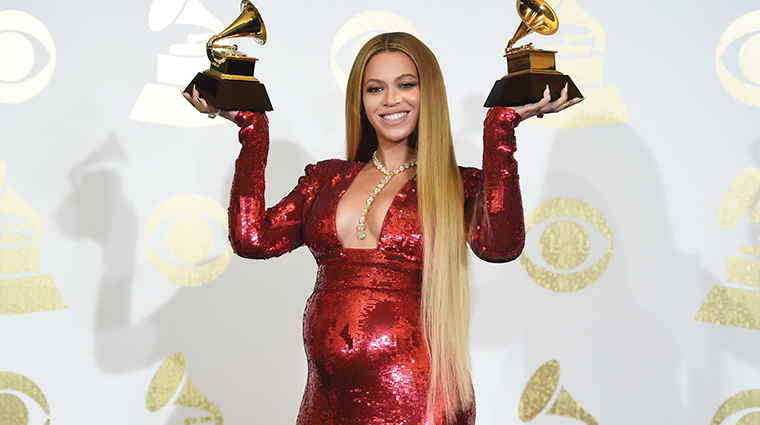 Unapologetically sexy
Did you think that having a bump that is growing in size every second was going to stop Beyoncé from showing off her curves? Queen Bey has never been shy of flaunting her assets, and pregnancy is no exception. She's shared her fair share of sinfully sexy outfits on her official website and Instagram page, and akin to most Bey outfits, we couldn't fault them even if we tried. A tight, bump-hugging mini dress with thigh high boots (oo, er!) and an angelic white floor-length dress are among our favourites. Although who can fault that stunning blue evening dress? All hail the queen!
Why we love these looks: Both these outfits show us that nothing has to change when dressing a bump if you don't want it to. Perhaps Beyoncé would have gone for a lower heel or perhaps an even shorter hem if she wasn't carrying twins, but there's nothing to suggest that Bey is making any style compromises here. We still firmly believe that she felt comfortable in all of her outfit combos, which we think is the most important thing to take from this style lesson.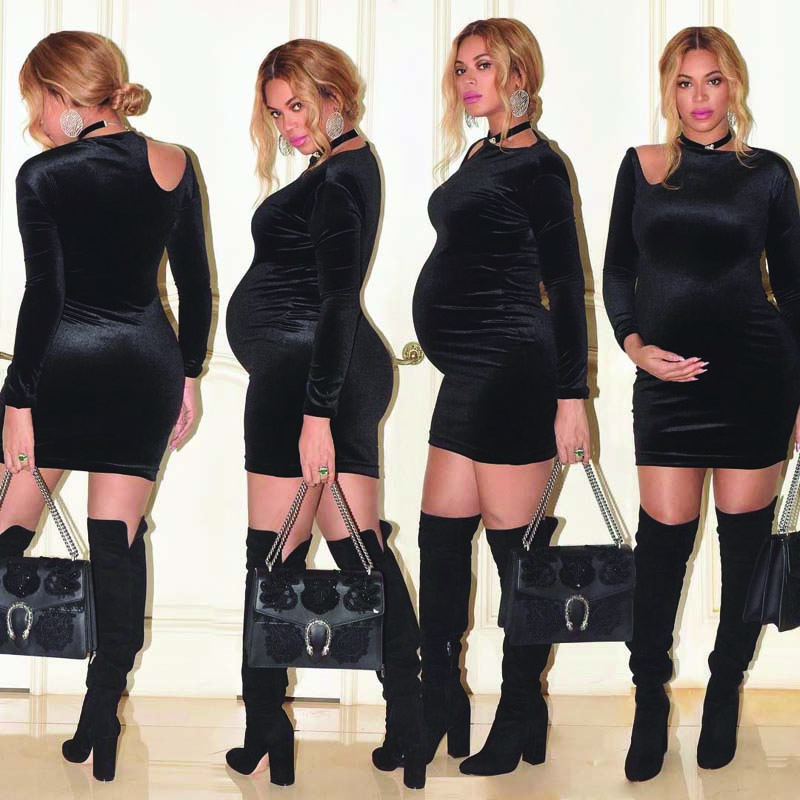 Under wraps
Amal kept us all guessing – was she, wasn't she? – at this stage of the pregnancy, and she managed to cleverly conceal her bump with the help of a baggy T-shirt and jacket combo (although the fact that this was a very un-Amal look sort of gave it away). It's no secret that oversized garments and bold, exaggerated, over-the-top prints are great for tricking the eye and do wonders for hiding baby bumps (Amal also favoured large floral prints just before going public!), so we would advise all females in the early stages of pregnancy to adopt these tactics until the time is right.
Why we love this look: Expectant mothers usually like to wait until the "safe period" to officially announce their pregnancy, but the pressures to disclose private information for those in the public eye are tenfold. Amal didn't let the pressure get the better of her, and handled it with pure class and dignity. She tried her best to hide her bump for as long as possible, and we are giving her top marks for using all the tricks in the book to keep her happy news private for as long as possible.
Work it!
We had high hopes for Amal's maternity style from the get go; we knew Amal would deliver and this look proves that she hasn't let us down.
Akin to Beyoncé who still performed at the Grammys while pregnant (didn't she kill it on stage? We're still in awe!), Amal Clooney showed no signs of quitting her day job while carrying her and George Clooney's twins either. Just look at her completely owning the office attire. And extra points for using those all-important documents to divert attention from the bump.
Why we love this look: If you want to show no signs of slowing down during pregnancy, then you must ensure your outfit reflects that. And that's exactly what Amal Clooney has done! Still rocking the insanely high stilettos and doing it with attitude – what better message to send out about female fierceness!
Keep it flowing
For the days you don't want the world to focus on the life growing inside you, then covering up by way of a cleverly ruched dress or a coat with a flowing, distracting fabric is the way to go. Both Beyoncé and Amal Clooney have had those days and still managed to look incredible, which is a great lesson to everyone.
INSPIRED?
If you too are expecting later this year, or are just preparing for pregnancy in advance – or are just a little bit nosey and want to fawn over the world's most famous yummy mummies-to-be and the fabulous fashions that are available to them – then we've got your back. We've rounded up some of the hottest and most en-vogue outfits to complement a bump; here goes:
For the days you want to hide: We recommend doing an Amal and covering up with a baggy T-shirt and an oversized or fussy coat. You don't even have to opt for exclusively maternity-approved items either – just go up a size or two and you're good to go! Specialist maternity tops are also a good investment as they will come in handy as your bump grows, and also after the birth too!
Spot print maternity top, £12 available at ASOS http://www.asos.com/asos-maternity/asos-maternity-top-in-spot-print-with-contrast-binding/prd/7037848
Maternity high waist jeans, £29.99, available at Mango http://shop.mango.com/GB/p0/woman/clothing/jeans/straight/high-waist-jeans?id=83023591_TM&n=1&s=maternity_she
Hatch Gabardine trench coat, £315, available at Net-a-Porter https://www.net-a-porter.com/gb/en/product/836078/Hatch/riviera-draped-crepe-de-chine-dress
Hatch Riviera draped crepe de chine dress, £260, available at Net-a-Porter https://www.net-a-porter.com/gb/en/product/836078/Hatch/riviera-draped-crepe-de-chine-dress
For those endless summer days: The first thing you would get out the wardrobe when the sun comes peeking through the curtains is a summer dress – and it should be no different during pregnancy. Plus the bold florals double up nicely as a bump distraction!
Maternity skater dress, £19, available at ASOS http://www.asos.com/asos-maternity/asos-maternity-skater-dress-in-bold-floral/prd/6600438?i
Isabella Oliver maternity dress, £119, available at John Lewis https://www.johnlewis.com/isabella-oliver-robson-print-maternity-dress-blue-multi/p2621131?
For the days you want to embrace the bump: Don't let your love of bodycon dresses take a backseat during your pregnancy. Buying bodycon dresses in bigger sizes may mean that the classic bodycon silhouette is comprised, so we would advise being on the lookout for dedicated maternity bodycons to meet all your sartorial needs. Luckily, with high street brands such as Mango and Topshop offering some very enviable pieces, your bodycon dreams are seldom out of reach.
Maternity twist front bodycon dress, £26, available at Topshop http://www.topshop.com/en/tsuk/product/clothing-427/maternity-456/maternity-twist-front-mini-bodycon-dress-6188949?bi=0&ps=20
For the days the red carpet calls: Getting dressed up to go to a VIP event doesn't have to be daunting. If your LBD is your go-to piece for those unexpected nights out, then there's no reason you can't make it work for you and bump! Whether you want a simple black dress teamed with some bold accessories to see you through an event or whether you want to go all out and wow the crowd with a truly spellbinding dress, then both can be achieved with ease.
Jo maxi dress, £109, Seraphine available at Shoptiques https://www.shoptiques.com/products/seraphine-jo-maxi-dress
Avery maternity dress, £76, available at Isabella Oliver https://www.isabellaoliver.com/uk/shop/occasions/maternity-party-dresses/avery-maternity-dress-caviar-black.htm
Blush bridesmaid dress, £140, Lois London available at Shoptiques https://www.shoptiques.com/products/lois_london-blush-bridesmaids-dress
Aralia maternity dress, £69.99, available at Chi Chi London https://www.chichiclothing.com/products/Chi-Chi-Maternity-Aralia-Dress.html
Poppie maternity dress, £74.99, available at Chi Chi London https://www.chichiclothing.com/products/Chi-Chi-Maternity-Poppie-Dress.html