You may have thought that the days of obsessing over denim were way behind you once the early noughties came to an end, but we're here to tell you that your denim-free days are over. Denim is back – and judging by designers around the world showcasing their autumn/winter 2017 collections at the start of the year, it could very well be here to stay. Now there's a thought!
The idea of denim in anything other than trouser form can be a tad daunting for some (we understand, and we'll hold your hands through this entire process) while others will no doubt be rejoicing and digging out some vintage pieces from the back of the wardrobe that were just too precious to throw away.
Denim was a very prominent feature in the Calvin Klein, Alexander Wang and Yeezy A/W 2017 collections, but the styling opportunities were worlds apart from each other. This can only be a good thing, as it means we have the chance to go as bold or as subtle as we want. Those who want to keep their denim cool and casual should look to Kanye West's Yeezy Season 5 for inspiration. Loose, high rise jeans effortlessly tucked into ankle boots is definitely something we can get on board with – especially as it presents an ankle boot shopping opportunity.
Whether you want to update your current jeans collection by trying out a new cut or colour, or give a subtle nod to the current trend by way of a few staple pieces, or go full on double denim a' la Britney Spears and Justin Timberlake (can you believe their AMAs red carpet appearance was 15 years ago? Neither can we!) then this is the place to be. We are here to cater to everyone with an expertly curated edit of the hottest denim pieces. Wear as much or as little as you dare!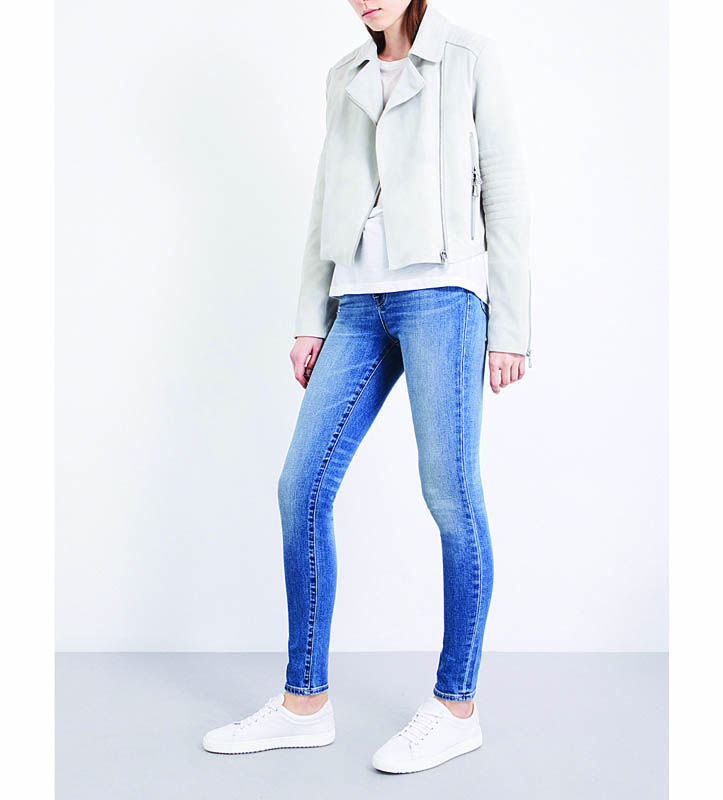 Let's play it safe and ease you into this slowly, shall we? Jeans are the most fear-free way to start your denim journey – and jeans from a reputable brand that prides itself on the quality of its jeans is the only way to go. You're in safe hands with J Brand; you can't go wrong with a simple, staple pair of J Brand jeans, and we think this pair we've selected is the perfect combination of the new-season trends, as well as the failsafe transitional classics. The best of both worlds! J Brand Carolina skinny high-rise jeans, £215, available at Selfridges http://www.selfridges.com/GB/en/cat/j-brand-carolina-skinny-high-rise-jeans_114-3003809-JB000381/?previewAttribute=Elusive&previewSize=24&_$ja=tsid:32619|prd:79682&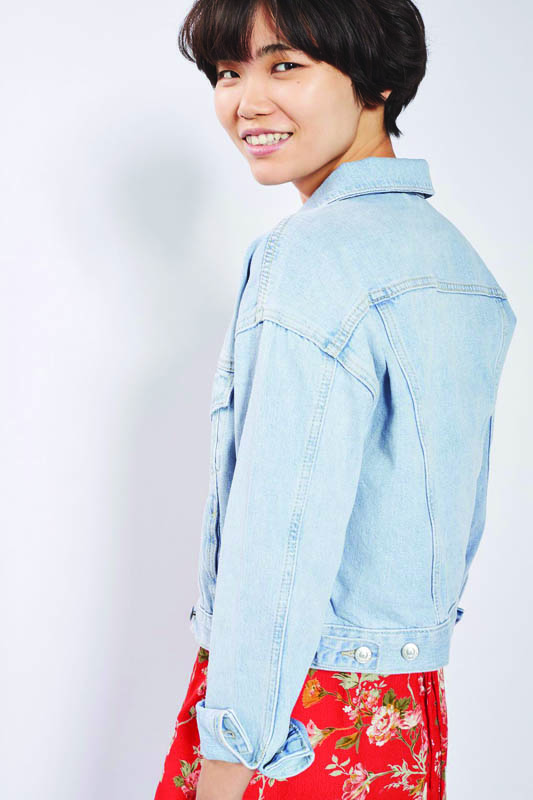 Now that we've warmed you up, how does a denim jacket sound? Not too frightening is it? Especially when it's worn over some of your go-to outfit combinations. Wear with a floral summer maxi dress for a wonderful juxtaposition, or go for a totally chic off-duty look by teaming it with some lightweight summer shorts and a casual vest top. Cropped denim jackets are all the rage right now, as are denim jackets with stand-out additions such as faux fur or lace trims or even patchwork, for example. But we think this one is quite toned down and versatile for all the denim-phobes out there. It's the perfect "throw it over your shoulder as you leave the house" jacket. We predict it'll be your hardest working spring/summer jacket by a long shot! Oh, and did we mention it's only £40? MOTO Fitted denim jacket, £40, available at Topshop http://www.topshop.com/en/tsuk/product/moto-fitted-western-bleach-wash-denim-jacket-6337280?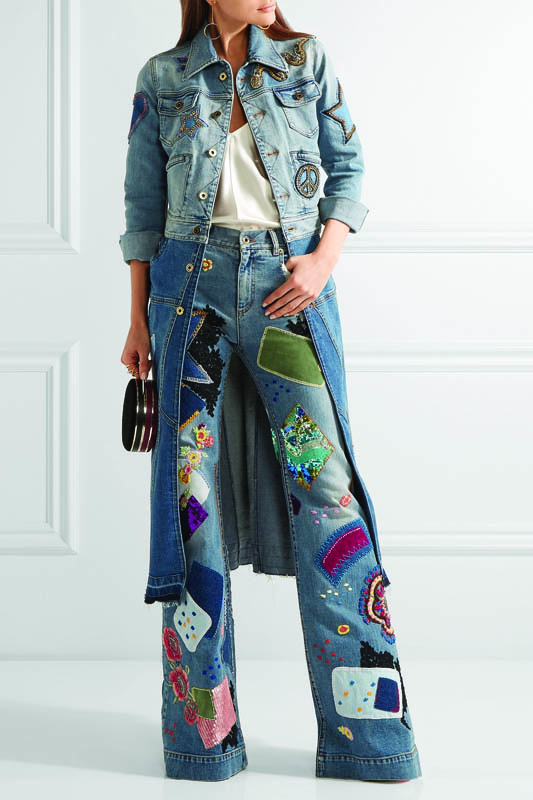 We can feel your love affair with denim really hotting up, which is why we think this is the perfect opportunity to introduce you to Roberto Cavalli's denim coat. Not just your average cropped denim jacket, this Roberto Cavalli masterpiece (there really is no other word for it) will really get your sartorial juices flowing. This coat is everything we love about fashion: it takes a theme – denim – and has positively run away with it. The different colours already made this coat stand out from its competitors, but that clearly wasn't enough for the Italian fashion designer, oh no. RC went one step further with the star-shaped patchwork – the thing we think adds the real finishing touch. This coat is actually from the Roberto Cavalli spring/summer 2017 collection – more proof that he is one step ahead of the game – and also incorporates the new season's seventies trend too. This coat really is the gift that keeps on giving! Roberto Cavalli two-tone appliquéd denim coat, £1,685, available at Net-a-Porter https://www.net-a-porter.com/gb/en/product/797889/Roberto_Cavalli/two-tone-appliqued-denim-coat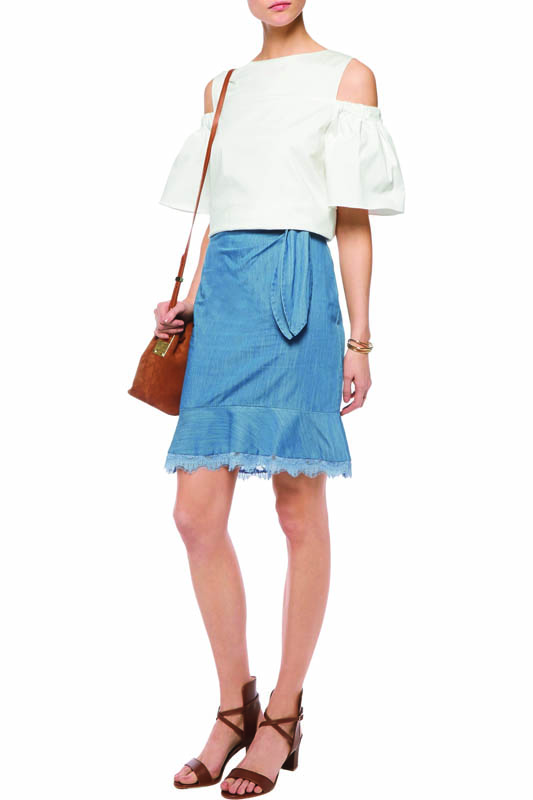 You can always count on Diane von Furstenberg to put a feminine spin on what could sometimes be regarded as quite an androgynous trend. Add a lace trimmed hem and some exaggerated bow detailing and you have yourself quite a romantic denim skirt. If you want to play on the softness, team with a silk white blouse – the cold shoulder version the skirt is styled with is also a great accompaniment if you want a more casual aesthetic – or even a Bardot cropped top, and subtle accessories to really make the skirt the stand-out piece of the outfit. And with a skirt as stunning as this one, we'd highly recommend it! Diane von Furstenberg lace trimmed denim skirt, £85.95, available at The Outnet https://www.theoutnet.com/en-GB/Shop/Product/Diane-von-Furstenberg/Lace-trimmed-denim-skirt/860540?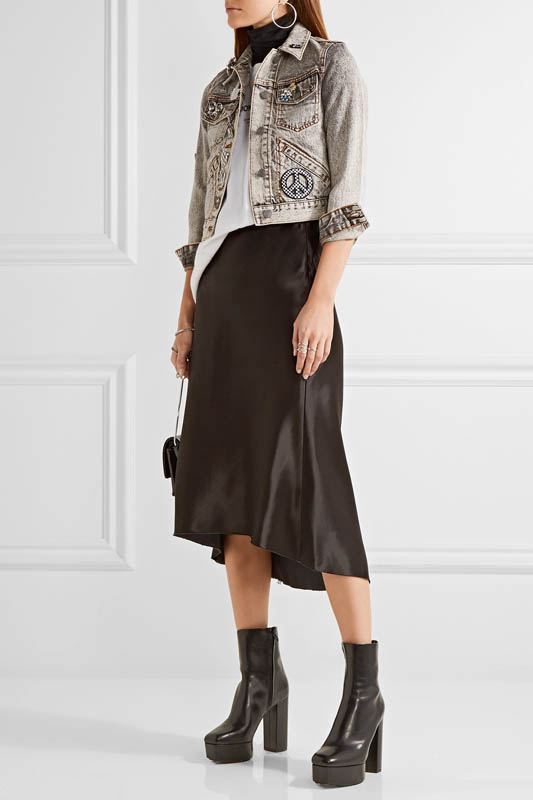 We can tell that we've, through no fault of our own, got you hooked on the denim trend; so why don't you try this denim jacket for size? Mix it up with a shade change, courtesy of this powerful 80s-inspired jacket from Marc Jacobs. There's nothing not to love about this jacket – it laughs in the face of every denim jacket you've not only owned, but ever looked at. Crystals, embellishments, patches, peace signs, you name it, you'll find it here! This jacket has everything you can think of neatly – but wildly – rolled into one. We don't think you'll be waiting for the denim trend to come and go to crack this out of the wardrobe – we predict it'll be a firm staple in prime wardrobe position, ready to be grabbed at any given moment. Marc Jacobs embellished appliquéd denim jacket, £745, available at Net-a-Porter https://www.net-a-porter.com/gb/en/product/817016/Marc_Jacobs/embellished-appliqued-denim-jacket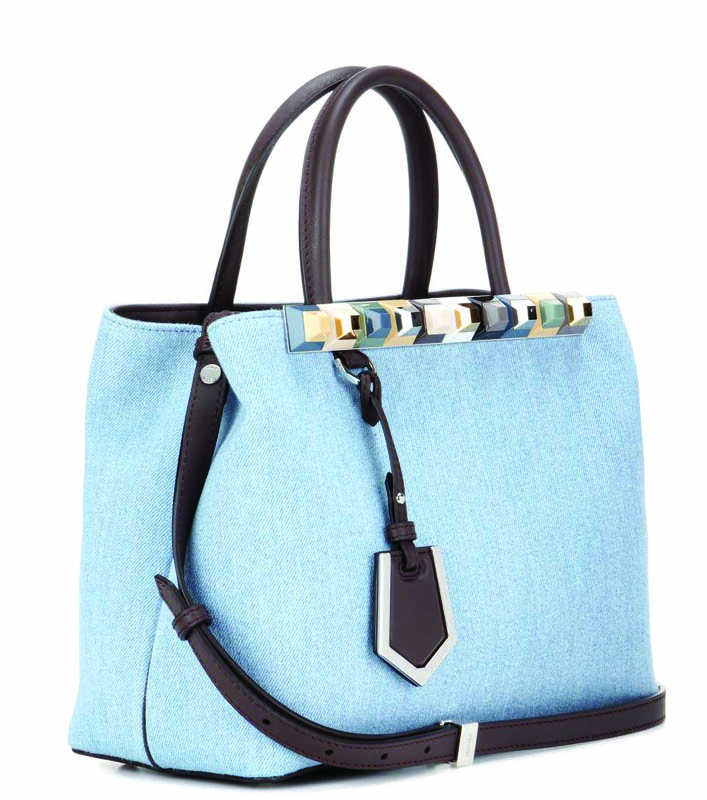 Buying a denim shoulder bag might have sounded like one of the craziest ideas to enter a person's head a few years ago, but given everything we've seen on the recent runways – and everyone's desire to get people talking with their fashion statements – we think it's rather brilliant. So many of the biggest and most innovative designers have stood behind the "denim everything" trend, and now we are standing behind them too! This Fendi bag has it all: embellishments, a durable leather interior, and a handy shoulder strap for when you want to go hands free! Eagle-eyed bag connoisseurs will know that this is a playful update on Fendi's classic 2Jours tote – it was an icon for a reason, and this too will be a permanent member of your handbag family. Fendi 2Jours petite denim and leather tote, £1,600, available at My Theresa http://www.mytheresa.com/en-de/2jours-petite-denim-and-leather-tote-736200.html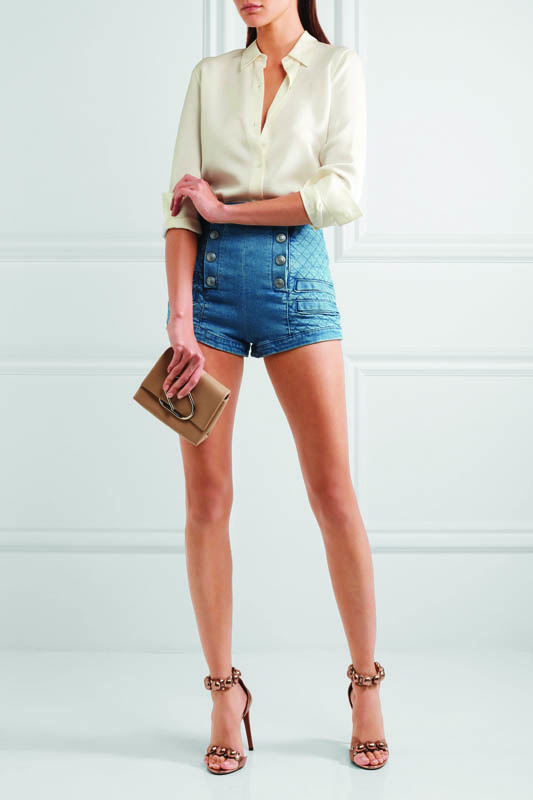 How do you make denim shorts look chic and tasteful? Get the fabric shade exactly right, add some buttons, and put all your trust in Pierre Balmain. Does that answer your question? If you want your denim shorts to be less Coachella-worthy-hotpants and more demure and sophisticated summer attire – regardless of their length – then look no further than these beauties. The high rise waist makes them perfect to tuck even the fanciest and most elegant of tops and blouses in to; not to mention flattering on the waist and hips too. It's the little things that make these shorts so dream worthy; the quilted detailing and the exposed zip at the back give these shorts the edge over every other pair we've seen, which is why we are adding them to our shopping basket with no hesitation. We know it won't take much for you to do the same. Pierre Balmain button-detailed quilted stretch denim shorts, £350, available at Net-a-Porter https://www.net-a-porter.com/gb/en/product/815809/Pierre_Balmain/button-detailed-quilted-stretch-denim-shorts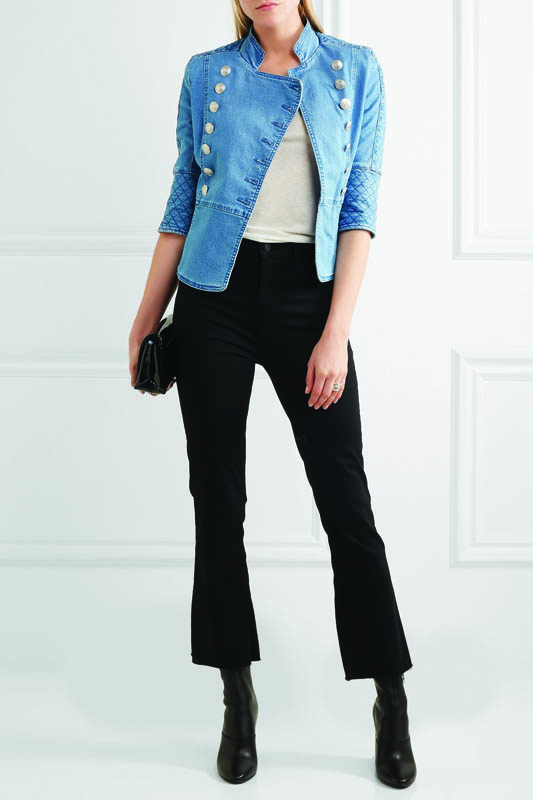 Oh, and while we have your attention, these shorts also come with the most to-die-for matching double breasted jacket. Just putting it out there… Quilted double-breasted denim jacket, £500, available at Net-a-Porter
https://www.net-a-porter.com/gb/en/product/815806/Pierre_Balmain/quilted-double-breasted-denim-jacket-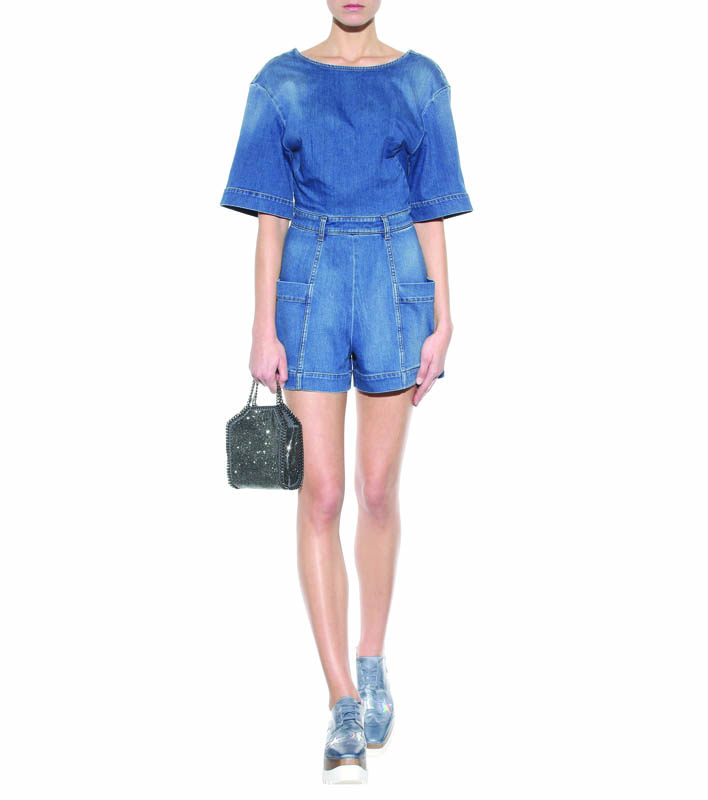 Why yes, Stella McCartney, we will be having one of your denim playsuits, thank you for asking. The British designer's update on one of the most versatile trans-seasonal pieces, i.e. the playsuit, is quite refreshing. It's the perfect piece for those who are tired of the overly-feminine designs that usually accompany daytime playsuits, and also works wonders for those who want something as casual and effortless as dungarees without actually committing to them. The cut-out detailing at the back is the best finishing touch we could ask for. Stella McCartney denim playsuit, £515, available at My Theresa http://www.mytheresa.com/en-gb/denim-jumper-704459.html