Blake Lively was noticeably absent from this year's Cannes Film Festival red carpet – leaving quite a gargantuan hole in our hearts in the process.
But fear not, Blake Lively style stalkers, because we are doing right by the former Gossip Girl and paying tribute to her and her myriad of flawless red carpet appearances in the best way possible by revisiting her greatest Cannes style feats of all time. Are you ready to be blown away?
1. Attending the BFG premiere at the 69th Annual Cannes Film Festival. If we had an invite to the Cannes Film Festival, we definitely think we would want to inject some colour onto the red carpet. And that's exactly what Blake Lively did courtesy of her stunning blue Atelier Versace gown. The former Gossip Girl is the epitome of yummy mummy here, and really went all out to up the glam ante and flash her perfectly bronzed pins at the same time. And while some ladies would be layering on the Spanx or opting for floaty dresses to try and disguise it, we absolutely adore how Blake showed off her baby bump. After all, having Ryan Reynolds' baby is certainly something to be proud of!
2. Attending the Café Society photocall at the 69th Annual Cannes Film Festival. Photocalls tend to allow for more casual outfits (think more along the lines of shift dresses, pencil skirts and jumpsuits as opposed to full-on ballgowns) and it looks like Blake Lively definitely got this memo. Toned down but by no means less captivating, this is one of Blake's more understated outfits in her Cannes history – which says a lot about how strong her red carpet game is. Whether intentional or not, Blake put the rest of her co-stars in the shade. It's hard to blend in when you're wearing a bold red Juan Carlos Obando jumpsuit and you have the red carpet presence of Blake Lively. Tousled beach wave hair thrown into a ponytail and subtle pink lips completed her look wonderfully.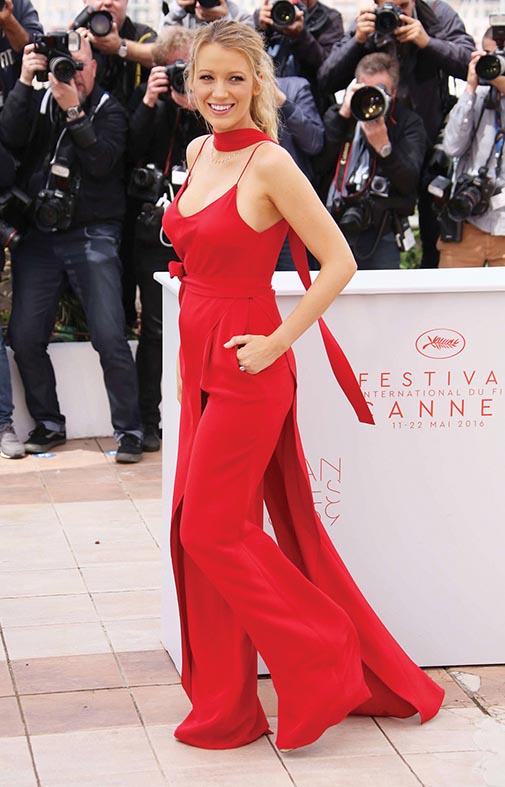 3. Attending the Grace of Monaco premiere at the 67th Annual Cannes Film Festival. Everyone is entitled to their Angelina moment too (we are of course referring to the peek-a-boo leg poking out of an exceptionally high dress split – the look that Angelina Jolie made famous at the Oscars back in 2012) and Blake Lively certainly showed everyone how it's done. She may have even taught Ms Jolie a thing or two as well – now there's a thought! This is one of the more seductive looks that Blake has presented to us on the Cannes red carpet, and we must admit that we don't know why she doesn't do it more often. Blake Lively gives a whole new definition to the term, "smouldering" with this look. The smoky eyes and the deep shade of red the Gucci gown comes in are a winning combination. And when we get a moment, we also want, nay – need, to discuss the Rapunzel-esque plait that is the unexpected hair twist we have come to expect from Blake Lively. We love how she constantly surprises us and keeps us on our toes.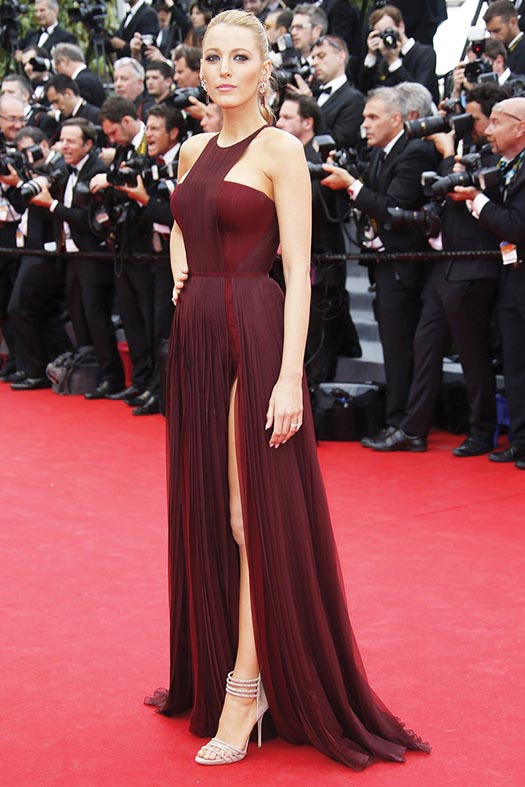 4. Attending the Ma Loute (Slack Bay) premiere at the 69th Annual Cannes Film Festival. You know how we feel about fairy-tale inspired red carpet gowns (hint: we love them, and think every A-lister needs her Princess moment) and Blake Lively clearly shares our view. Proving that the wow factor isn't in the bold colour or in the voluminous skirt, but actually in the structure of the silhouette and the intricate embellishments, this Vivienne Westwood dress was a real show-stopper. The messy up-do teamed with the bow-detailed hair band is the perfect accompaniment. Blake Lively's reasoning behind this dress might have had something to do with her not wanting to draw too much attention to her baby bump, but she clearly achieved so much more. Cinderella would no doubt be put to shame.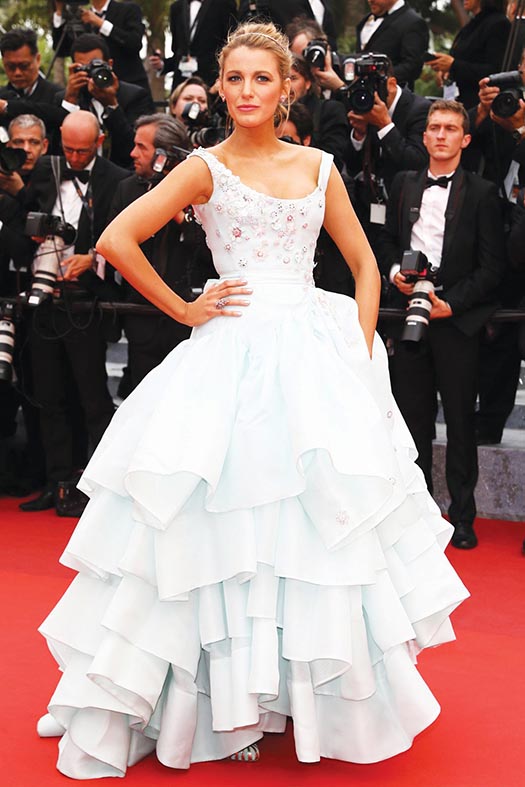 5. Attending the Captives premiere at the 67th Annual Cannes Film Festival. It would be an injustice not to feature this magical, monochrome Gucci ensemble that in our opinion, captures the true essence of the Cannes Film Festival and its well-renowned red carpet. There's no mistaking that film – and all the timeless Hollywood glamour that is associated with it – is at the heart of this world famous festival. Blake Lively's seamlessly chic and sophisticated Gucci look was in a league of its own and has no doubt raised the standards. Perhaps what we love most about her appearance on the Captives premiere red carpet, is that Blake Lively attended it with her husband, Ryan Reynolds, proving that they really are the red carpet couple that every other twosome strives to emulate. His and hers glam, as presented by Blake Lively and Ryan Reynolds. We challenge every other A-list couple to try and steal their red carpet crown from them; we don't think it'll happen any time soon – especially now that our beloved Brangelina are a thing of the past – but we're certainly excited to witness the competition.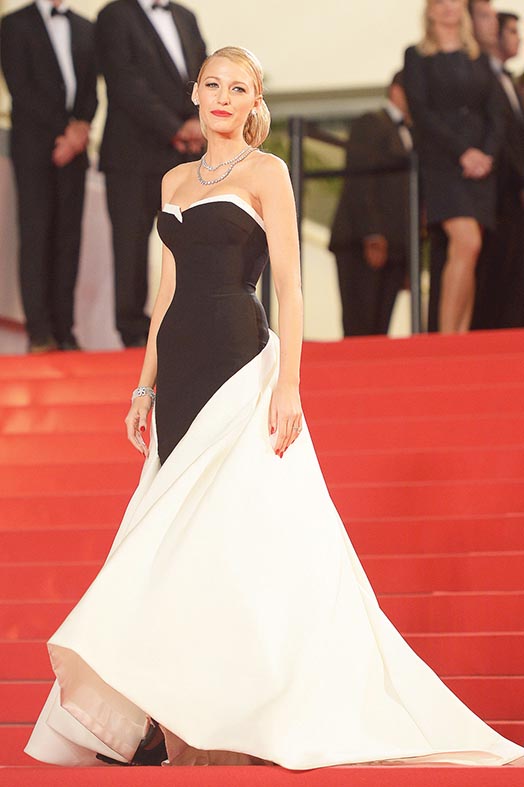 6. Attending the Café Society premiere at the 69th Annual Cannes Film Festival. Pregnancy must really agree with Blake Lively (there's clearly some truth in that pregnancy glow thing) as we're obsessed with yet another look from last year's red carpet; i.e. when she was pregnant with her and husband Ryan Reynolds' second child. Just look at her! We're always amazed by what Blake does with her hair – she isn't afraid to challenge conventions of what red carpet hairdos should be by turning up with everything from ponytails to messy updos as opposed to more traditional designs. But we also adore her long, luscious, flowing golden locks, and we're ecstatic that she let her hair reign free with this Atelier Versace ensemble. Loose, enviable waves tumbling over her shoulders made her give off the ultimate glittering goddess meets Hollywood screen siren look – how can anyone not love it? Top to toe, this is perfection.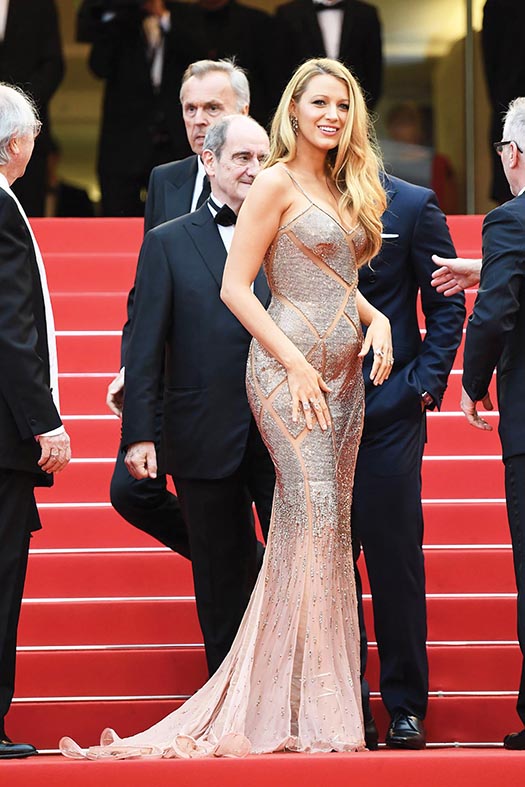 7. Attending The Shallows photocall at the 69th Annual Cannes Film Festival. And finally, because we can't appreciate Blake Lively's style in all its glory without featuring at least one short dress (a Blake Lively favourite for obvious reasons) comes this look at the photocall of The Shallows. Posing against quite a gorgeous, picturesque background, Blake Liively is showing off her enviably long, toned pins in a short yet sophisticated dress that is utter Cannes perfection. So perfect, in fact, that we barely noticed the background of this picture until it was pointed out to us. How's that for an attention-grabbing look?!