Dubai Duty Free announced that it achieved its annual sales target of Dhs7.3 Billion or US$2 Billion in the early hours of 29th December.
Commenting on this achievement, Colm McLoughlin, Executive Vice Chairman & Chief Executive Officer of Dubai Duty Free said: "2018 has been a good year for Dubai Duty Free, and we have been building up towards the US$2 Billion sales figure all year. We have been tracking the sales figures hour by hour over the past couple of days and it is fantastic to have achieved this figure before the end of the year."
The US$2 Billion milestone was reached in Concourse B on 29th December at 00.43 when Mr. and Mrs Christensen, a retired Danish couple, purchased a Nikon D5300 SLR Camera worth Dhs1,999 which helped tip the sales over the milestone target.
Once identified, Mr and Mrs Christensen were presented with a DDF gift card for US$2,000 by Dubai Duty Free officials including Saba Tahir – Senior Vice President Purchasing, Allan Chapman -Vice President IT & Logistics, Kaiser Imtiaz – Senior Buyer, Salim Ibrahim – Operation Manager, Duty Managers Edmond Saldanha and Hazel Punongbayan and Duty Officer Jasmin Javelosa.
Paul and Annelise Christensen were transiting Dubai for the first time from Copenhagen to Sydney for their wedding anniversary. They were both delighted and surprised to hear the good news 50 minutes prior to their flight to Sydney on EK 414.
Speaking with a DDF representative, Mr. Christensen said ,"My wife wanted to purchase gold and with this $2,0000 gift card she can buy all the gold that she wants".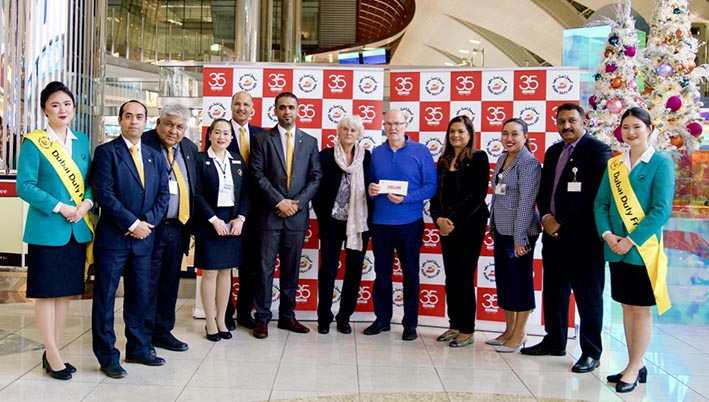 The couple were impressed by the wide variety of merchandise available in Dubai Duty Free and thanked everyone for the wonderful surprise.
On achieving the US$2 Billion sales, Mr McLoughlin added, "It is appropriate at this time to acknowledge the tremendous team effort that goes into running an operation of this size and I would like to extend my thanks to our Chairman, HH Sheikh Ahmed bin Saeed Al Maktoum for his ongoing support and commitment. A big thank you to our customers, our suppliers and of course our team of staff who, keep the operation running 24 hours a day."
Dubai Duty Free, which celebrated its 35th Anniversary on December 20th, recorded sales of $20 million for its first full year of business. Of the original 100 staff who joined in 1983, 26 are still in active service, and the current staff figures are 6,200.