The Bubble flaunts its curves once again: In stark contrast to the XXL versions designed for thrill seekers, it's now time to meet the "Mini" version, measuring only 17 mm. It's the first compact Bubble watch bearing the Corum signature!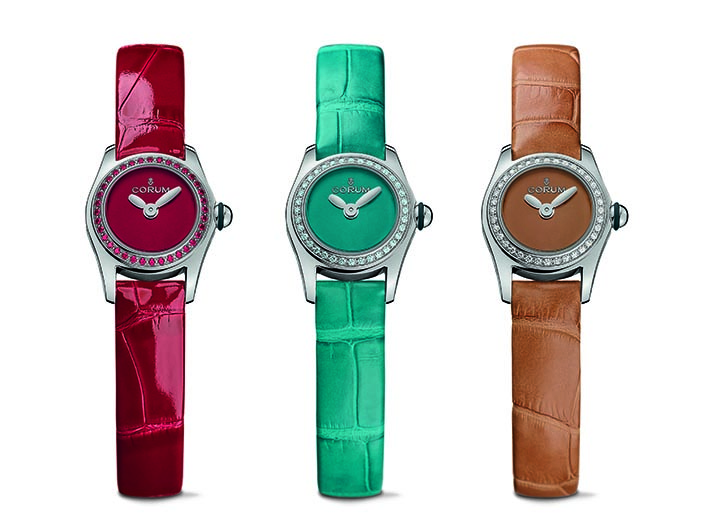 Absolutely stunning, curvy and proud of it: Corum's Bubble continues to bare its curves. Originally only available in 3 sizes: 42, 47 and 52 mm, the collection now includes the all-new 17 mm diameter.
Especially created for women, the piece adopts the design of its famous predecessors: a round stainless steel case, a domed sapphire crystal, and a bubble-shaped crown with rubber grip. Today, the 17 mm version features a bezel set whose stones match with their bracelets: topaz on a turquoise bracelet, ruby on a red bracelet and diamonds on a brown bracelet. These three versions of the 17 mm Bubble watch will only be produced as a series of 18 pieces for each colour.
"In the past, we had already offered some rare Mini Bubble collections in 26 mm", explains Jérôme Biard, CEO of Corum. "These are now our collectors' most sought-after pieces. With these new versions, we wanted to preserve this unique dimension, with an exclusive limited edition that perpetuates the Mini Bubble collector spirit, while renewing the creative exercise by daring to go down to only 17 mm".
The result is just like any other Corum creation: coyly discreet, genuinely creative. The domed sapphire crystal wonderfully fulfils its role here. Contrary to numerous creations for women whose small diameter significantly degrades their readability, the Mini Bubble remains perfectly readable thanks to its bubble-shaped sapphire crystal which acts as a magnifying glass. Corum enhanced the readability here by preserving the large hour and minute hands that perfectly stand out against the coloured dials. The three limited series are brought to life by a quartz movement.
Exquisite? Understated? Daring? The new Mini Bubble watches are probably a bit of all that at once. They can be what you want them to be: a fashion accessory, a jewel, a wristwatch or a bracelet watch. Fiercely independent from watchmaking trends, the Mini Bubble follows its own creative journey on the wrist of those who create their own rules.