#fightlikeawoman campaign features Free Screening & Mammograms, Seminars and Special Giveaways for women visiting the mall on 12 & 13 October 2018.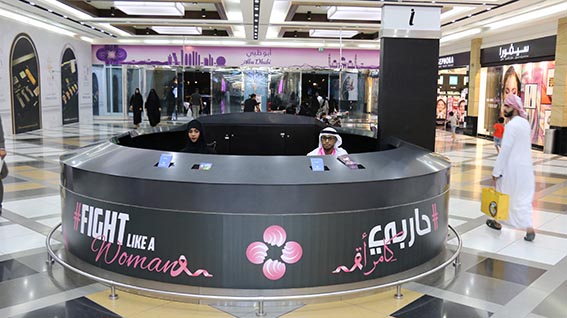 Bawabat Al Sharq Mall joins the women of the UAE and across the world in their fight against breast cancer by going Pink during October – The Breast Cancer Awareness Month.
The Mall in collaboration with SEHA (Abu Dhabi Health Services Co.) and RAHMA (Cancer Patient Care Society) has lined up the #fightlikeawoman campaign that aims to instill faith, build hope and give strength to all women to face the disease affecting a large number of women by highlighting the importance of early detection.
Mall visitors can benefit from Free Mammograms for women above 40, Free Screening, Free Informative Seminars and Face-to-face Sessions with Survivors from 4:00 PM to 9:00 PM on 12th and 13th October 2018.
The participating women will also receive special giveaways as a mark of appreciation for their enthusiasm to join the mall in support for their fight against breast cancer.
The various outlets including HomesrUs, La Brioche, Hair Lab, Nayoumi Beauty Saloon, Booster Juice and Fitness First will be joining the awareness program with special offerings.