Choosing to redesign the heart shape, the Maison Messika presents it leaning slightly, like a comma. Surrounded by a delicate, asymmetrical micro tessellation, it asserts its dynamism and mischief. Both sensual and
cheeky with its twisted shape giving it an added touch of frivolity, it seems literally to sway as a metaphor illustrating a sequel in a love story. Joy pear and brillant diamond rings Joy Coeur rings Move Uno rings «The ring is intentionally open and delicately embraces the finger. I like the lightweight appearance and the notion of levitation in each of the pieces. I have also created a pendant, suspended like a tassel, which moves freely
and represents a beating heart. Single-loop earrings were also a great inspiration for me. I have designed a diamond stud and a fine hair slide, decorated with a heart which seems to be pierced by an arrow, to bring a rock n' roll touch,» says Valérie Messika.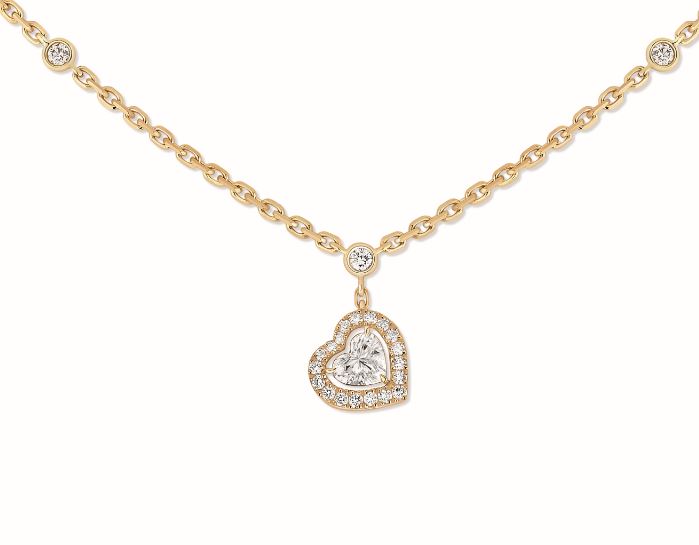 THE STYLE BY MESSIKA…
Movement being a fundamental pillar to Messika, Valérie has strayed from her signature Move motif, with her trio of diamonds floating within a gold rail, but encouraged the idea of movement with designs that seem to undulate on the finger, the earlobe, or around the neck.
JOY COEUR BY MESSIKA…
In a range of rose and white gold, pavé and non-pavé, the Joy Coeur Valentine collection asserts its strong personality and includes a necklace, where the heart motif is treated with refinement. This is complemented by
the solitaire, an open ring, which echoes a shooting star. The point rises like a comma, to surround the heart, twisting the symbol and asserting its character to be worn alone or together.
Rock & roll fans will be tempted by one of the single-loop earrings designed for Valentine's Day: a pavé stud, the Joy Coeur or Coeur chaîne bar, a contemporary hoop where a heart-shaped diamond hangs weightlessly,
set on a semi-circle. Or else a filigree version attached to a micro chain.