*sorry
What's the best thing about parties?
Sure socialising with your nearest and dearest and dancing to the hottest tunes are both definitely up there, but nothing beats having an excuse to slip into a gorgeous and attention-grabbing pair of party heels. Here are some of our absolute favourite heels (ready to buy and slip your feet into straight away, may we add) that we have been drooling over lately…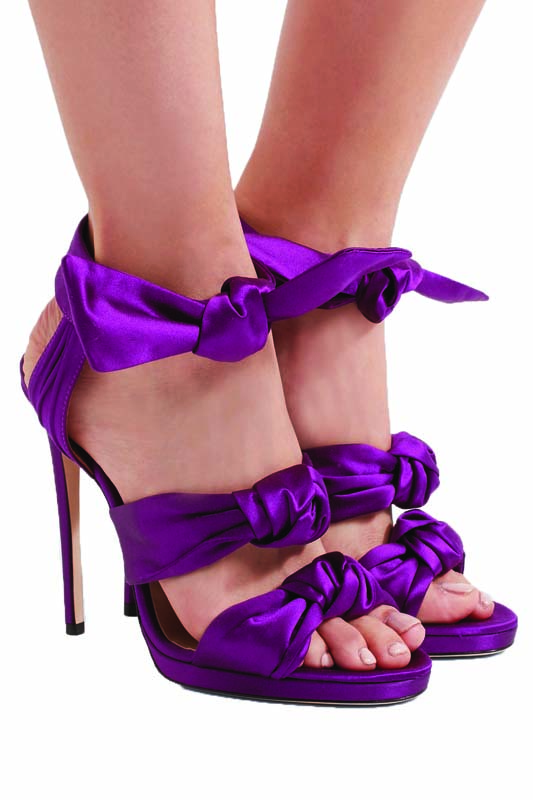 Make your outfit really pop with these perfectly irresistible purple party heels (try saying that really fast!) courtesy of the shoe gurus at Jimmy Choo. The satin material is just the sort of luxury your feet will need if they're going to be dancing all night long. Jimmy Choo Kris knotted satin sandals, £675, available at Net a Porter https://www.net-a-porter.com/gb/en/product/791170/Jimmy_Choo/kris-knottted-satin-sandals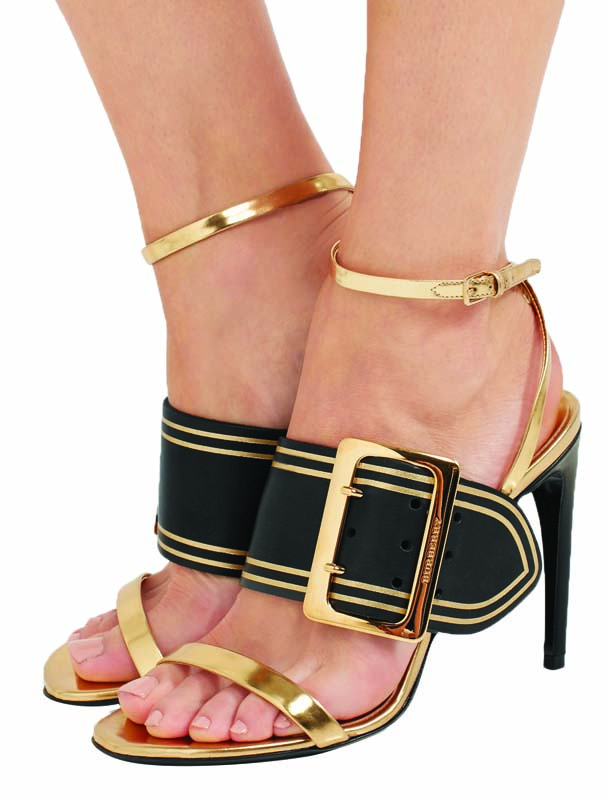 You haven't truly experimented with fashion until you've decided buckles are no longer just reserved for belts and you're willing to wear them on your feet instead. These buckle shoes are the epitome of luxury too; what else would you expect from Burberry? The sleek black and gold accents are surely what dreams are made of. Burberry metallic leather sandals, £595, available at Net a Porter https://www.net-a-porter.com/gb/en/product/791804/Burberry/metallic-leather-sandals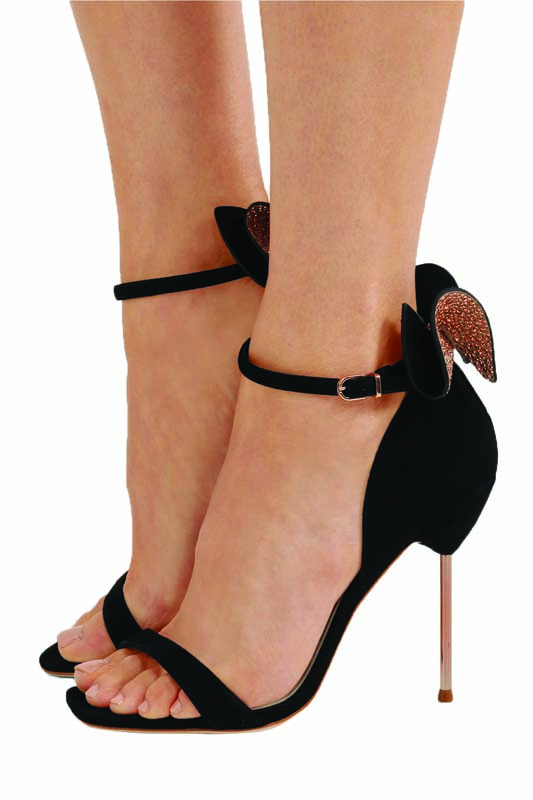 Sophia Webster knows how to make a girl feel special, doesn't she? These badboys are the Mohawk of the shoe world – business in the front and party in the back! If subtle and sophisticated is the way you like to roll, these are the shoes to wear with your little black dress to the next party. It would be unthinkable not to! Sophia Webster Maya bow-embellished suede sandals, £425, available at Net a Porter https://www.net-a-porter.com/gb/en/product/774462/Sophia_Webster/maya-bow-embellished-suede-sandals-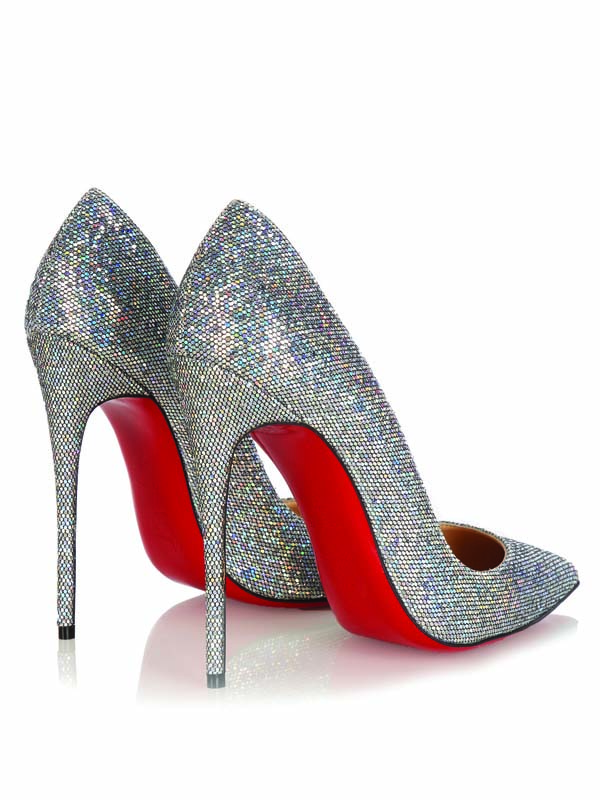 A party isn't a real party unless sparkles are involved. If sparkles are your way of life, then you probably already have several pairs of glittering party heels in your wardrobe. But we don't think anything can beat these dazzling beauties from Christian Louboutin. We could get lost for days in the sparkles! Christian Louboutin So Kate 120mm glitter pumps, £475, available at Matches http://www.matchesfashion.com/products/Christian-Louboutin-So-Kate-120mm-glitter-pumps-1063455#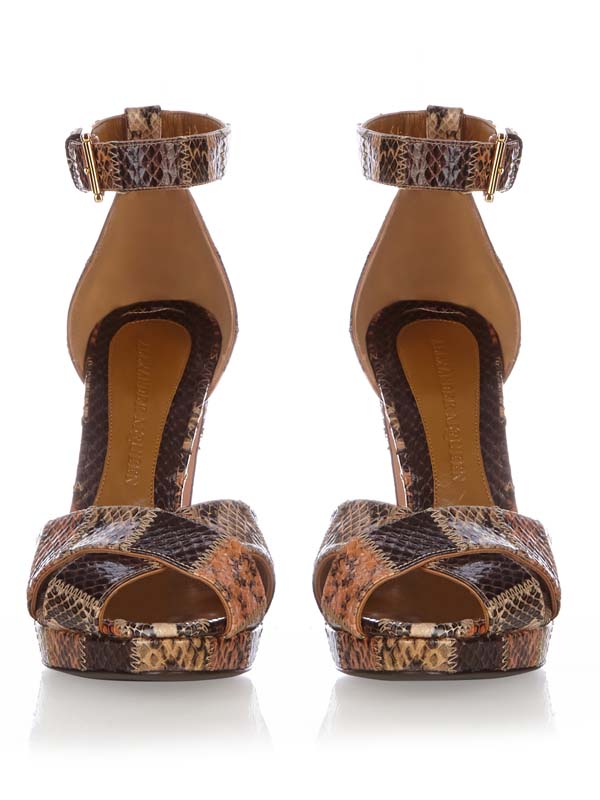 If you're leaving the cutesy at home and going for a more dark and sultry party look, then these definitely need to be on your feet for the duration of the evening. May we suggest teaming these with a skinny leg black jumpsuit? Don't be intimidated by the heel height either – you'll be surprised just how comfortable these are thanks to the chunky block heel. Height and comfort? Now we're talking… Alexander McQueen leather block heel platform sandals, £350, available at Matches http://www.matchesfashion.com/products/Alexander-McQueen-Leather-block-heel-platform-sandals-1056177
Party shoes at the height of elegance – that's the best way to describe these Dolce and Gabbana beauties. We love the bold red colour which gives that instant wow factor, and the all-over lace detailing adds that extra romantic and ladylike touch that every party needs at some point. Dolce and Gabbana Belluci crystal embellished lace pumps, £625, available at Matches http://www.matchesfashion.com/products/Dolce-%26-Gabbana-Belluci-crystal-embellished-lace-pumps-1058864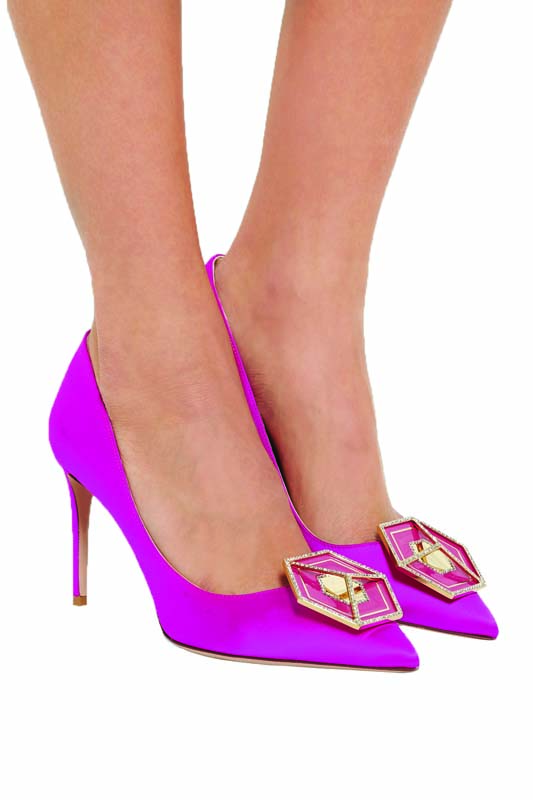 What woman doesn't love jewellery and the colour pink? Extend your love of jewels to your shoes and get your hands (and feet) on these gorgeous crystal-embellished satin pumps. We sort of want to bite the jewel off and put it on a necklace, but we'll try and restrain ourselves for the time being… Nicholas Kirkwood Eden jewel crystal embellished pumps, £550, available at Net a Porter https://www.net-a-porter.com/gb/en/product/706323?
FIRST AVENUE TIPS FOR PAIN-FREE PARTYING
Akin to childbirth, no man will truly understand the all too real pain of walking in heels all night. They may say they do, but not really… unless they have a little secret to tell us? We have nothing but respect and admiration for the A-listers who have made a point of it, largely by taking their shoes off mid-awards ceremony.
Most recently, John Legend's gorgeous wife Chrissy Teigen decided to break with tradition and sit down on the steps at the Golden Globe awards half way through her red carpet walk – and got a high five from Blake Lively for her "I don't care what people think" attitude. Good for you, girl!
But there are a few top tips for making heel-wearing just that little bit less torturous, which is exactly what you need when investing so much in a beautiful pair of party heels. So here goes:
Tape your toes together. Obviously this can't be done if you're wearing a dainty pair of strappy sandals (sorry!), but for court shoes and even peep toe pumps, taping your second and third toe together (cutting masking tape into a thin strip usually works best as we found it has the strongest hold) works remarkably well. We don't want to get into the science of it all, but it's something to do with alleviating pressure throughout the foot, which is all the convincing we need!
Gel pads. How women lived without gel pads in the past, we'll never know. Clear gel pads are a must, as they cushion the balls of your feet which, let's face it, is where the pain starts from – and only intensifies as the night goes on. These will definitely make you last a little bit longer than you would have without them, so they're a must-buy. Stock up, give them to your friends and family, carry them around in your bag – you get the picture!
Fake it with a chunky heel or wedges. If you wear heels solely for the height, then look no further than wedges. If you love the leg elongating effect high heels give you, then you could definitely get away with a chunkier heel which takes a lot of pressure off the feet. Sneaky!
Fake it part 2 – platforms. We don't actually mean seventies-inspired platform boots (although they're also making a comeback, so don't rule them out altogether), but any heel with even a fraction of a platform at the front is going to be way more comfortable than one without. Think about the angle of your foot and you'll see what we mean. It makes perfect sense – it's all in the math!
Blisters from straps? Unfortunately a lot of straps can cause blisters or make your skin incredibly sore and sensitive from the friction, which isn't going to be appreciated the following morning. Luckily, there are some everyday household items that could give you that much-needed relief before you've left home. Rubbing Vaseline on the inside of the straps (don't worry, it won't damage the shoes) is a great way to prevent this. Additionally, rubbing or spraying deodorant on your feet will work wonders too. Who knew?
Get the right size. We can't stress this enough: wearing the wrong size shoe will do long-term damage to your feet, as well as cause you incredible short-term pain on the night you wear them. We would recommend getting your size and width measured by a pro at least once every couple of years. Take advantage of those half sizes and wide-fit shoes when they're available, if you need to. They'll make a world of difference. And make sure you take the designer's fitting guide into consideration too. Some websites tell you to go a size up or down accordingly, so we urge you to take their advice. They're the professionals after all!
Take a rest. You'll last a whole lot longer if you take short rests throughout the night. Sit down when you need to and you'll be surprised with how many more songs you'll be dancing to without complaining. Just think of Chrissy Teigen…
Go athleisure the next day. Make sure you give your feet a well-deserved rest the next day by slipping into something a little comfier. Luckily, athleisure couldn't be hotter right now, so slide into those trainers and go about your day knowing you're channelling the trendiest celebs and making your feet happy too. Win, win!