at The St. Regis Dubai, Al Habtoor Polo Resort & Club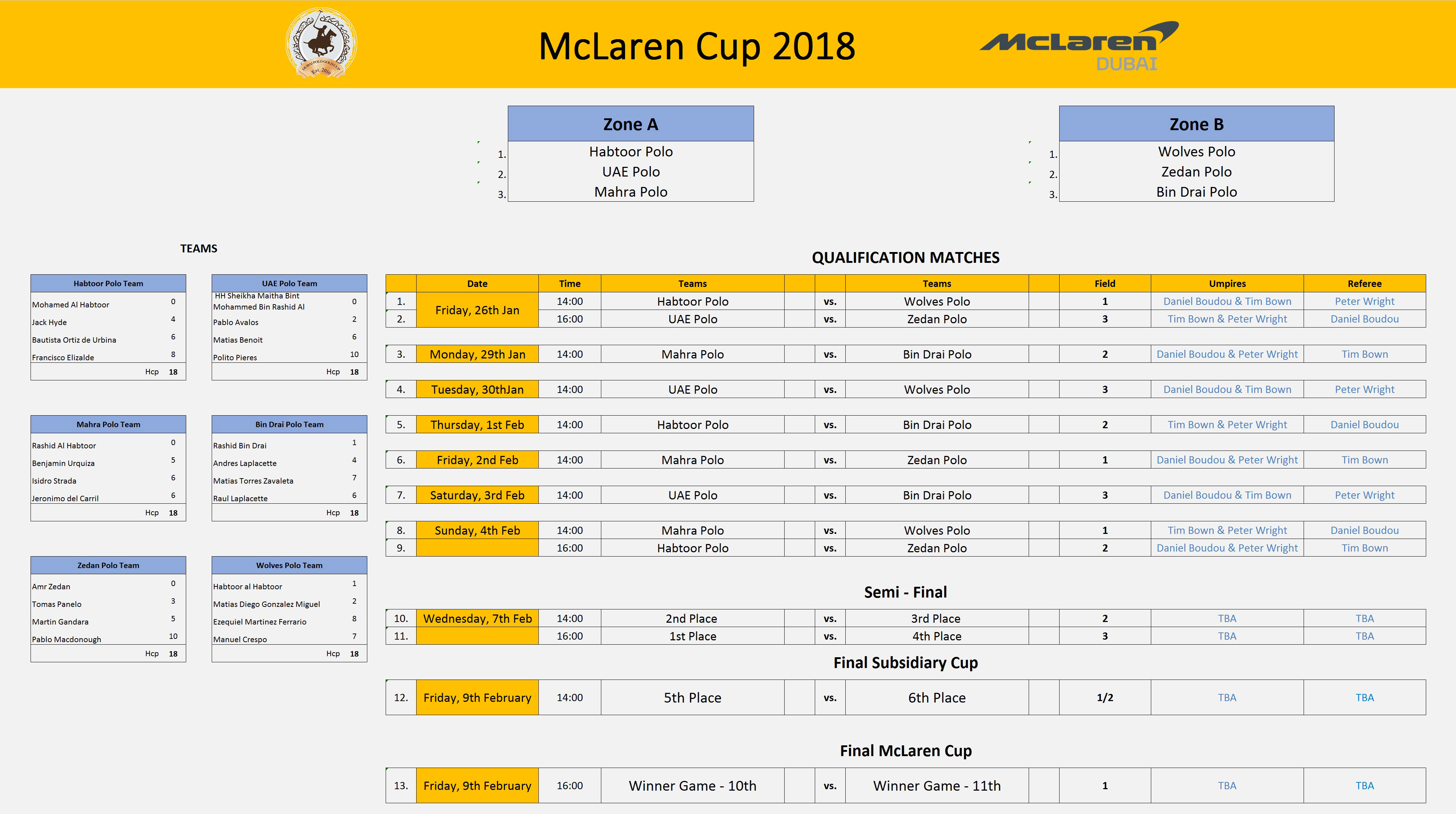 The Dubai Polo Gold Cup Series, an 18-goal handicap competition, enters its ninth year under the Patronage of HH Sheikh Maktoum bin Mohammed bin Rashid Al Maktoum, Deputy Ruler of Dubai. On Monday, 22 January 2018, the organizing committee conducted a live draw for the McLaren Cup 2018 fixture at The St. Regis Dubai, Al Habtoor Polo Resort & Club – the new home ground of the Series.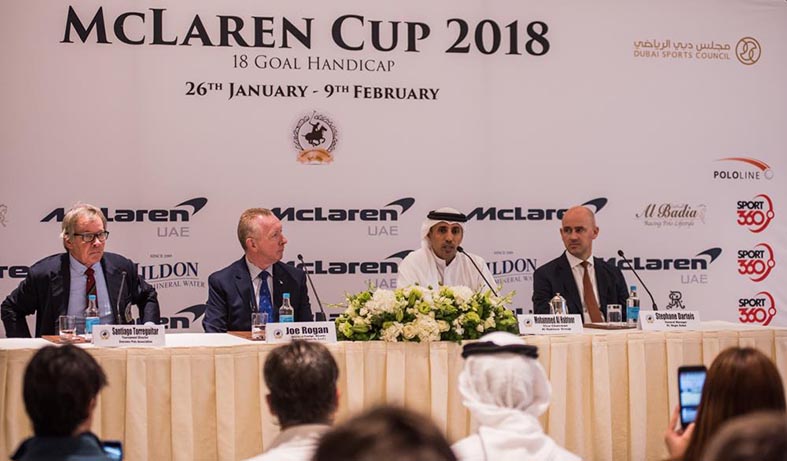 Five high-goal tournaments fall under the umbrella of the Dubai Polo Gold Cup Series: The McLaren Cup, which runs from 26 January to 9 February, The Polo Masters Cup from 10 to 15 February, The Julius Baer Gold Cup from 16 February to 9 March, The Dubai Challenge Cup from 14 to 23 March, and The Dubai Cup from 6 to 13 April 2018.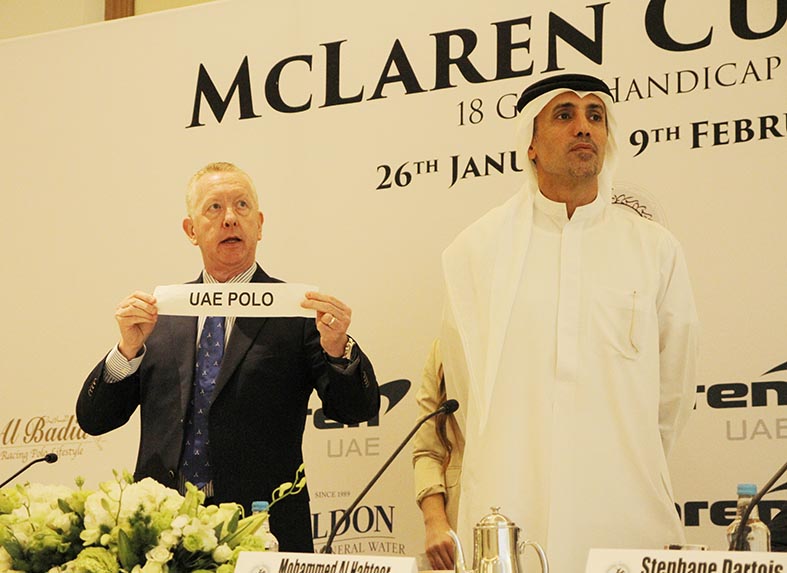 The Dubai Polo Gold Cup Series is the fourth-largest tournament of its kind after Argentina, the United States and the United Kingdom. Founded by Mohammed Al Habtoor in 2009, the tournament is the premier regional polo competition of the year, attracting VIPs, society figures, and senior corporate executives from across the region. It has grown in tandem with the city of Dubai, and since 2012 it is the only tournament in the United Arab Emirates to be recognized and certified by the World Polo Tour (WPT). It is played under the banner of the Hurlingham Polo Association (HPA), with the tournaments being played under strict international supervision according to the HPA rules and provision of its umpires.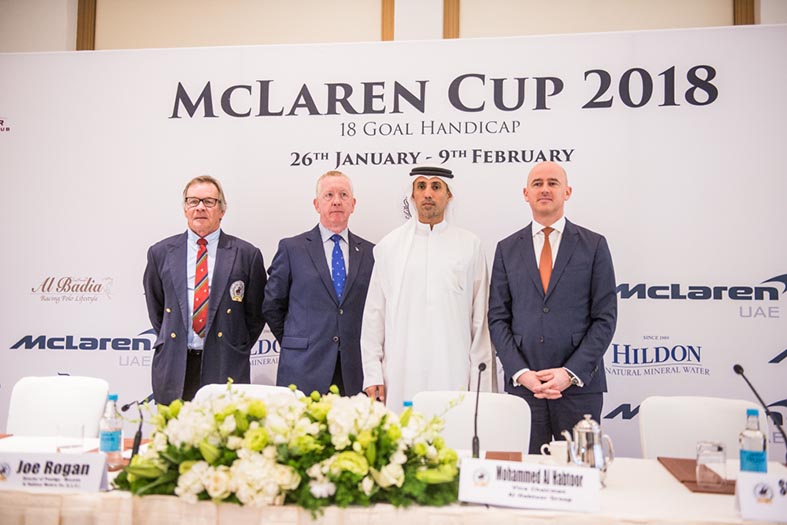 Mohammed Al Habtoor, Founder of the Gold Cup Series and patron of the Habtoor Polo team, said, "This year there are six teams playing in the McLaren Cup. The participating teams will host some of the top-ranking world polo tour players, including Pablo Mac Donough, the 10-goal superstar and three-time Triple Crown Champion with La Dolfina; Polito Pieres, another 10-goal figure and winner of the 2012 Gold Cup in England; Ezequiel Martinez Ferrario [8-goal handicap]; Francisco Elizalde [ 8-goal handicap]; Ezequiel Martinez Ferrario [8-goal handicap], and many others who have come directly from Argentine Open."
The final of the McLaren Cup will take place on 9 February 2018 from 1pm at the Al Habtoor Polo Resort and Club, located in Dubai Land.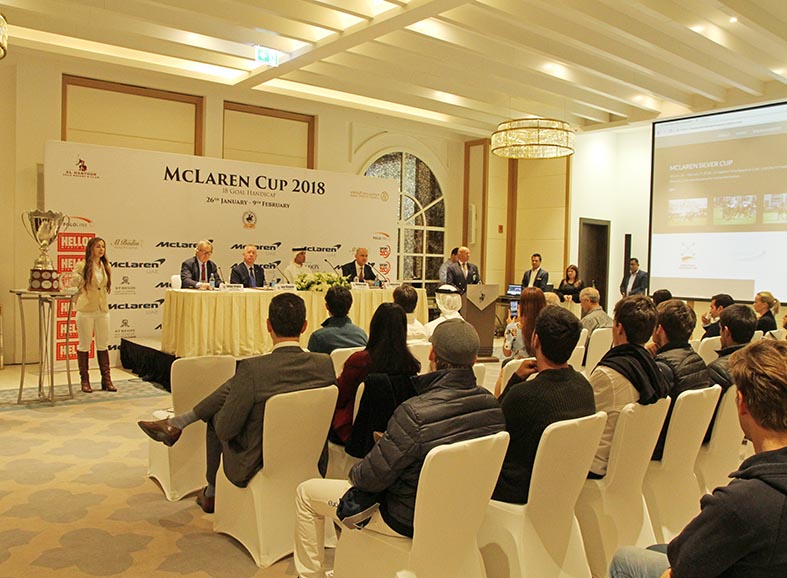 The six participating teams in The McLaren Cup 2018:
• Zedan Polo Team (Patron: Amr Zedan)
• Bin Drai Polo Team (Patron: Rashid Bin Drai)
• Habtoor Polo Team (Patron: Mohammed Al Habtoor)
• Mahra Polo Team (Patron: Rashid Al Habtoor)
• UAE Polo Team (Patron: Her Highness Sheikha Maitha Bint Mohammed bin Rashid Al Maktoum)
• Wolves Polo Team (Patron: Habtoor Al Habtoor)