STORYLINE: THE POET
A nod to poetry as an artistic element of the UAE's heritage, The Poet pieces feature beautifully detailed gold scroll capsules which house parchment scrolls of calligraphed poetry from Sheikh Zayed and Mana Al Otaiba. Named Nahham, the scroll vessels historically reference the entertainer that would accompany every boat full of pearl divers out to sea, lifting spirits by reciting poetry. MKS Jewellery brings these sentiments forward as it is part of the UAE's heritage that shouldn't be forgotten.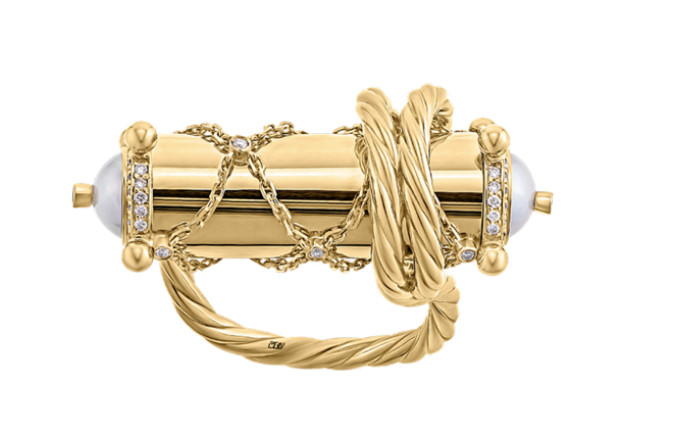 "These symbols and storylines celebrate this land and its people. The UAE is me and I am the UAE, this is my story in all its beautiful symbolic ways. Curated is a stack of special creations, coming together piece by piece to share different parts of its treasures both in its gems and meaningful treasures." – HRH Sheikha Mariam Saif Al Nahyan 
 ABOUT AL OTAIBA:
Drawing inspiration from H.H. Sheikha Mariam bin Khalifa bin Saif Al Nayan's great grandfather, Al Otaiba translates to 'The King of Pearls' and the elegant collection looks to tell stories of Sheikha Mariam's ancestry, honoring UAE heritage and bringing it to the present through modern interpretations.
Proudly using Emirati pearls as well as the classic mother of pearl, the handcrafted creations are a marriage of past and present through the stories they tell and through their thoughtful design. The collection; comprised of necklaces, rings, bracelets and earrings, incorporates five storylines that reference back to the nation's pearl heritage and reflect on Otaiba in different ways, all the while keeping a contemporary feel and elevated aesthetic in order to speak to new generations.
"Emirati pearl and mother of pearls are so precious to us, they speak of the colors of our sea and the color of the earth, where our ancestors are buried, and where we find roots to grow. How beautiful the color of our home, how unique is its glow." – HRH Sheikha Mariam Saif Al Nahyan.