Committed to the vision of Dubai and the UAE in highlighting the important role of youth in the local communities and creating a knowledge based economy, AMSI opens a new school that focuses on shaping a generation of innovative thinkers and achievers.
Al Mawakeb Al Khawaneej, third in the series of Al Mawakeb schools, is ready to welcome the first batch of students in September 2018. The school will be enrolling students from Pre-K to Grade 8 in the first phase.
The new school promises quality education in a safe, enjoyable and enriching environment where the students' inherent capabilities and potential are identified, nurtured and developed. Set in an area of 65,000 sq. ft., the new school offers a unique blend of academic programs, state-of-the-art facilities and a vision for creating a new generation of confident achievers.
The school aims to work diligently to provide the students with ample opportunities for self-realization and self-fulfillment. This kind of an approach encourages them to be self reliant, by guiding them to take responsibility of their actions, because ultimately their future successes will depend on the choices they make.

Academic Program Delivery
The school's rigorous academic program incorporates technologically advanced learning aids along with a variety of extracurricular & intramural sports and activities. Additionally, innovation becomes an integral part of the curriculum with 5E instructional model consisting of 5 phases of learning: engagement, exploration, explanation, elaboration and evaluation.
Students are engaged in real life contextualization through project based and collaborative group work. They also get involved in hands-on activities such as designing 2D and 3D models using concrete objects and technology tools.
Another highlight of the system is the technology-rich instruction that caters to the needs of different groups of students including those with SEND, and those who are gifted and talented. The school also provides tablets and iPads to assist the students with learning difficulties to use text-to-speech programs, video tutorials, and educational virtual games.
ICT Applications
The technologies deployed at the school transforms the traditional classrooms and laboratories into interactive, high-tech, multimedia learning environments. All classrooms in all grade levels are equipped with interactive whiteboards to support the teachers' audio-visual demonstrations and facilitate collaborative and interactive learning among students.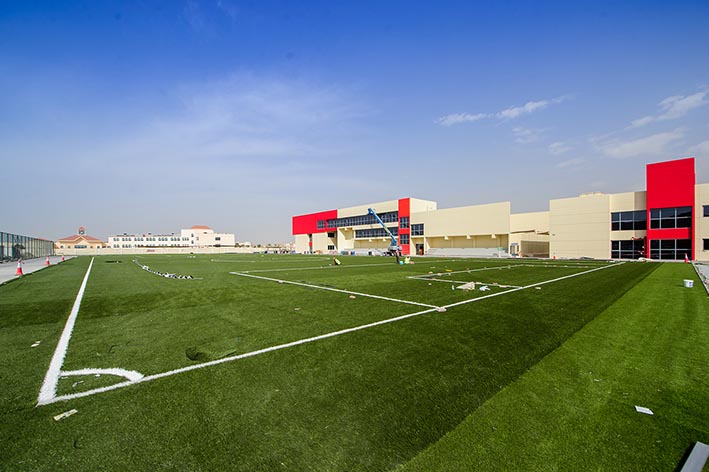 The Curriculum
Al Mawakeb Al Khawaneej's syllabus is based on American Curriculum that is aligned with the Common Core State Standards (CCSS) for English and Math, New Generation Science Standards (NGSS) for Science and California State Standards for Physical Education, Arts and Modern Languages and the UAE Ministry of Education for Arabic, Islamic Studies, Moral Education and Social Studies. The program emphasizes on students' critical and independent thinking, intercultural learning, developing creativity, and 21st century skills.
The Facilities
The school's exhaustive line-up of facilities includes fully equipped General & Specialty Science Laboratories, Music Room & Studio, Art Room with high-end surround sound systems, Computer Labs with individual workstations, a dedicated STEM Lab, Libraries, Multi-Purpose Halls/Activity Rooms, a multi-tiered Auditorium, Indoor Gym featuring Basketball, Volleyball & Handball courts, a fully equipped Fitness Gym, Indoor Swimming Pool, an outdoor Football field, Running track and Multi-Sport court.